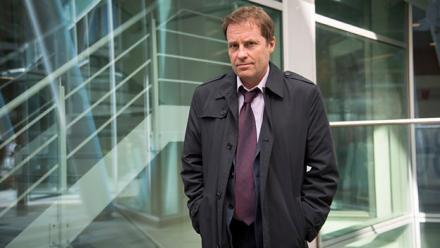 Ardal's character DI Jack Mooney makes his debut in tonight's episode as the team visit London for the first time. And when the Caribbean crime fighters return to Saint Marie it will be Mooney who joins them in the place of Kris Marshall's DI Humphrey Goodman.
The comedian/actor joins regulars Josephine Jobert, Danny John-Jules, Tobi Bakare and Don Warrington for the remaining episodes of series six and will remain the resident Caribbean cop for the seventh series in 2018.
O'Hanlon says: "I am delighted to be joining Death in Paradise and exploring what's made Mooney up and leave London for a life in the Caribbean. I've already had a taste of filming in Guadeloupe and can't wait to get back."
Kris Marshall says: "Death in Paradise has been an incredible experience, six months every year filming on a tropical island in the sunshine – what's not to love! Humphrey was socially awkward and clumsy but also brilliant, I'll miss him but it's time to hand over to someone new and spend more time with my family. I know Ardal will do a superb job and I just hope Humphrey gets a happy ending!"
The nature of Humphrey's departure is still being kept under wraps until his final episode airs on February 9.
the one show