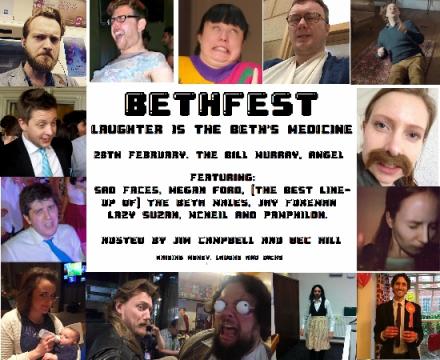 A special charity gig is being put on by the former clients of Beth O'Brien's Ditto Productions to raise money for O'Brien's medical expenses.
The show, entitled BethFest: Laughter is the Beth's medicine!, will take place at the Bill Murray in Islington on February 28.
Among those appearing are McNeil & Pamphilon, Lazy Susan, (the best of) The Beta Males, Megan Ford, Sad Faces and Jay Foreman. The evening is being organised and hosted by Jim Campbell and Bec Hill. All proceeds will go towards covering Beth O'Brien's medical costs in the US.
Hill and Campbell say: "Beth O'Brien worked tirelessly for all of the acts on this bill, as well as many more, through her agency, Ditto Productions. Sadly, she had to close Ditto down as a result of ill health and now needs treatment in the US. We figured that the best way to help would be to raise some money by doing what we do best, and though it's tempting to take somewhere between 10-15% of the final total we'll probably even give her the whole lot."
O'Brien is the promoter who put on the legendary The Wrestling shows at the Edinburgh Fringe. The show in 2011 won the Edinburgh Comedy Award Panel Prize.
Tickets for Bethfest are £5 in advance, £10 on the night. Book here.