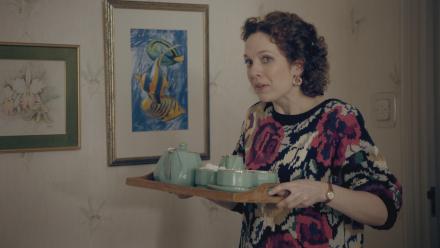 The IT Crowd's Katherine Parkinson is to appear in a new all-star comedy series on Sky Arts in which famous urban myths are recreated. Parkinson plays a north London housewife called Ange in an episode about Bob Dylan dropping in for tea thinking he has popped round to musician Dave Stewart's house but instead getting the wrong house.
Other stars appearing in the series include Carrie Fisher, Rupert Grint, Joseph Fiennes, Bryan Cox, Stockard Channing, David Threlfall, Iwan Rheon, Eddie Marsan and Noel Clarke.
The season will air from January 19 and then continue in April. Details released so far are as follows 

Urban Myths: Bob Dylan 
TX: 10pm on 19 January
Music legend Bob Dylan decides to play an impromptu visit to his friend and fellow musician Dave Stewart at home. Unfortunately Dave isn't home but his wife Ange reveals he will be back shortly so would he like to wait over a cuppa. Sure enough Dave returns, but far from Dave Stewart, this is Dave the plumber – and massive fan of Bob Dylan. Bob sticks around to offer relationship advice. 
Bob Dylan is played by Eddie Marsan, Dave by Paul Ritter and Ange by Katherine Parkinson. Written and produced by Neil Webster and directed by Ben Palmer.

Urban Myths: Samuel Beckett and Andre the Giant
TX: 10pm on 26 January

Long before he went on to become a famous wrestler and film star, Andre the Giant was chauffeured to school by the playwright Samuel Beckett. Samuel steps in to help Andre, who is his builder's son, as his size means he is already too big to be able to get the school bus. Along the journey a formative lesson in love and life ensues.
Samuel Beckett is played by David Threlfall. Written by Neil Forsyth and directed by Ben Palmer.

Urban Myths: Hitler the Artist 
TX: 10pm on 2nd February

A young 18 year old Adolf Hitler pursues his passion for art, as he and his best friend August, a talented musician, live in Vienna hoping to study at the revered Arts Academy. The only problem is that young Adolf is crap at art and is rejected, incurring a wrath that would have far-reaching consequences.
Adolf is played by Iwan Rheon and Gustl by Rupert Grint. Written by Ben Edwards and directed by Dan Zeff.
Urban Myths: Cary Grant and Timothy Leary
TX: 10pm on 9th February

On the set of Alfred Hitchcock's North by NorthWest, Hollywood heartthrob, Cary Grant introduces the psychologist and soon to be drugs advocate, Timothy Leary, to LSD, resulting in an unforgettable kaleidoscopic trip.  
Cary Grant is played by Ben Chaplin and Timothy Leary by Aiden Gillen. Written by Ed Dyson and Roger Drew.
Season 2 - April 2017, date to be confirmed.
Urban Myths: Elizabeth, Michael & Marlon – This episode has now been pulled from the schedules. See story here.
New York, September 2001. Long-time friends Elizabeth Taylor, Michael Jackson and Marlon Brando flee Manhattan in a Budget rental car, heading west towards Boston. The resulting road trip sees them lamenting on their lives, loves, careers and egos as they go.
Elizabeth Taylor is played by Stockard Channing, Michael Jackson by Joseph Fiennes and Marlon Brando by Brian Cox, with Carrie Fisher as diner burger flipper. Written by Neil Forsyth and directed by Ben Palmer.
Urban Myths: Muhammad Ali
In the early 1980s, after his recent and high profile defeat to Larry Holmes, boxing legend Muhammad Ali takes it upon himself to talk a suicidal stranger down from a ledge. Using his unique brand of wit and wisdom, he succeeds in persuading the man that life is worth living, and learns a huge amount about himself in the process.
Muhammad Ali is played by Noel Clarke. Written and produced by Neil Webster and directed by Ben Palmer.
Urban Myths: The Sex Pistols
The Sex Pistols' infamous 1976 appearance on the early evening Bill Grundy show, when they outraged a nation with their four-letter tirade, heralded the arrival of punk rock. This comedy takes a wry look at the stories surrounding the appearance from Johnny Rotten answering viewers complaints to Freddie Mercury's role in giving the Sex Pistols notoriety.
Urban Myths: Salvador Dali and Alice Cooper
Salvador Dali summons Alice Cooper to sit for him whilst he creates a hologram. A comedic exploration of the moment when these two egos – and Dali's muse Gala – collide.
Cast and director TBA.