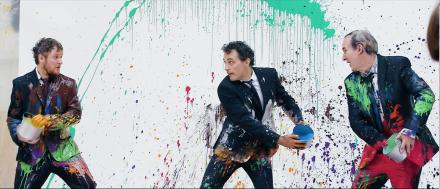 I first saw Yasmina Reza's three-handed Art about fifteen years ago. It had been running for a few years and a number of comedians had been parachuted into the cast to give the box office a boost. I missed Frank Skinner and Jack Dee but saw a peach of a production with all three of the League of Gentlemen, Reece Shearsmith, Mark Gatiss and Steve Pemberton playing the roles of friends who clash over the pricey purchase of a plain white canvas.
This time round Tim Key is in the line-up as tolerant yet anxious Yvan but as much for his acting credentials as his comic clout. This is his second Old Vic show, having already starred alongside Daniel Kitson in Tree. Rufus Sewell plays Serge, who loves his new painting. Paul Ritter, from Friday Night Dinner, plays Marc, who questions his old chum's taste. 
The scene is set for a tight 90-minute comedy of manners in which alliances shift and simmering grievances come to the surface. At one point there is even a physical fight, but most of the action is verbal and sometimes almost silent. In one brilliant tense/funny scene, the trio eat olives and the only sound is the stones clanking into the bowl as they toss them away. Director Matthew Warchus helmed the original production too, so has an obvious fondness for the piece and knows what buttons to press to get the audience onside.
It is no surprise that Key is the funniest performer. On the night I saw the production he easily got the biggest roar after a long, breathless, increasingly frantic speech about his impending marriage. But Sewell is much more than a straight man and Ritter shows that he is a versatile actor, his character veering between comedy and serious drama. 
As well as a piece about friendship, Art is also about the nature of modern art. Is this large white canvas really worth 100,000 euros? If Serge is prepared to pay that much for it does that answer the question or is he a mug and it is a case of the Emperor's New Clothes? Make up your own minds as the dialogue – translation by Christopher Hampton – fizzes along in a succession of short, sharp and beautifully constructed scenes. 
Until February 18. Tickets here.