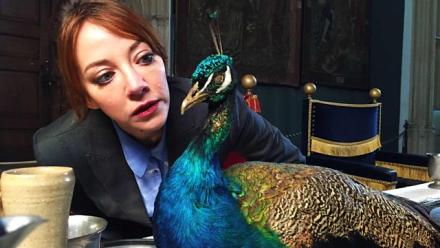 Following a one-off on Shakespeare earlier this year Philomena Cunk returns with a seasonal sequel exploring the meaning and traditions of Christmas. It's an important time of the year, she tells us. In fact as Cunk explains at the start of the programme in her distinctive flat northern tones, "Christmas is such a big deal even Richard Dawkins probably does it."
If you've seen prize ignoramus Cunk before, either in her own show or on Charlie Brooker's various Wipes, you'll know what to expect by now as she goes around spouting nonsense ("the Bible has been replaced by the Argos Catalogue") and asking various experts questions they least expect. Food critic Jay Rayner plays along with her for a bit when she talks about eating peacock but I think he rumbles her eventually. Others simply smile benignly and tolerate her stupidity as she comes up with increasingly dumb enquiries such as were there pagans before there were humans.
Diane Morgan as our simple-minded guide improvises her questions and comes across beautifully stunned when she learns a new fact ("you're joking me?") while the script that links the interviews – by Charlie Brooker, Jason Hazeley and Joel Morris – keeps things moving along briskly. I'm still not sure if the Cunk concept has got the legs to be a series in its own right as some have said, but there are more than enough deliciously daft moments here – including a stand-out swipe at Simon Cowell – to suggest that these event-specific one-offs should keep coming. 
Watch on iPlayer here.