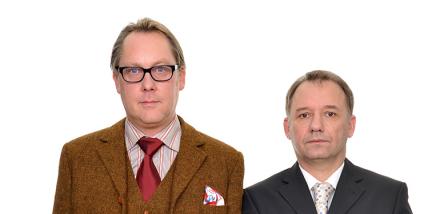 Having been spoilt for choice when it came to picking TV highlights the live highlights felt thinner on the ground this year. The Edinburgh Fringe featured a lot of very good shows but few really great ones. Maybe comedians were a little knocked sideways by the Brexit vote. but two did respond well – see below. Elsewhere there were a few excellent big gigs and small gigs and it was nice to see some West End runs rather than bank raid arena one-offs. These shows are listed in absolutely no particular order.
Brian and Robin's Compendium of Reason
A late entry into the gig of the year list and it actually makes it for a non-comedy part of the night rather than the stand-up. After short sets from umpteen scientists, plus James Acaster and Milton Jones, the curtains opened and Duran Duran closed proceedings with a greatest hits set, kicking off with Planet Earth. Incongruous yet brilliant, it could have only have been bettered of Simon Le Bon and Robin Ince had duetted on Hungry Like The Wolf. 
James Acaster
With four Edinburgh Comedy Award nominations already in the bag would Acaster finally win the big prize with his latest show Reset? Frustratingly it was just another nomination but his stand-up standards were as high as ever with a show based on the idea that it would be great to have a real-life reset button. We could certainly do with one for 2016. Read a review here.
Louis CK
In the same couple of weeks Louis CK and Bill Burr both played major gigs in the UK. Some critics felt that Burr was at the top of his game and CK had peaked on his last tour but for me Burr seemed a little workmanlike whereas CK had real fire in his belly. He might have been wearing a smart suit for a change but he was as comically furious about life as ever. 
Bridget Christie 
The first of two performers that offered the most damning critique yet of Brexit Britain. Christie famously tore up the script of her intended Edinburgh show after the Referendum and instead put together this furious yet beautifully silly state of the nation address with added gardening tips. It's still on in London and touring - go see.  
Josie Long
Long was slightly later out of the blocks than Christie but had a better stage set - all flags, banners and pictures of her left-wing heroes. Long's show Something Better mixed the personal and the political to great effect - a clarion call for protest and a celebration of hitting 34 and liking a cheeky Pinot Grigio. Review.
Reeves and Mortimer
The 25th anniversary tour was initially overshadowed by Bob's heart operation but when the duo hit the road they were clearly in full working order. As were all of their old gags, from Dove from Above to Man With The Stick. Though maybe when they do their 50th anniversary tour it will be Man With The Walking Stick. Review here.
Stewart Lee
This year's show Content Provider should have been a dry run for the next BBC2 series, but when that was axed this seemed to free Lee up. There was also a whiff of Brexit here but the main target was the narcissism of the digital selfie generation. Lee's most laugh-out loud show in years and also a show with one of the best closing images in years. 
Mr Swallow
Who cares about awards? Hopefully not Nick Mohammed, because his Mr Swallow character keeps missing out on them for some reason I've yet to fathom. His latest show was a wall-to-wall laugh-out-loud song and dance tribute to legendary magician Houdini. It's simply very funny, what more fo you want?
Mark Watson
There were lots of great sets at Latitude this summer but for some reason Mark Watson hit a nerve. Maybe it was partly to do with the fact that he started it by standing in the crowd about two feet from me. Watson is clearly a genius yet he wears his insecurities on his sleeve, making constant asides about being too past it for TV even though he is only in his thirties. A lovely gig and also the first time his son had ever seen him perform - Watson Junior gave him the thumbs up too. Review.
David Baddiel
Talking of honest comedy, shows don't come more candid that My Family Not The Sitcom, in which Baddiel talked about his father's dementia and his late mother's infidelity. Not subjects for humour you might say? If you'd seen this hilariously funny – and moving – show you will disagree.
Richard Herring 
Herring gave Edinburgh a miss this year and instead toured with a show entitled Happy Now? in which he reflected on whether being content is such a good thing for an artist. As a new father he could not resist making some gags about parenthood and while the subject might have been hack the gags certainly weren't as he considered various dark things that might befall his daughter. Is the pram in the hall bad for creativity? It doesn't seem to have done Herring any harm.
Richard Gadd
Comedy met therapy and had a right old chinwag in this theatrical tour de force from Scottish comic Gadd who delved deep into his psyche to pull out this gem of a multimedia solo show which won the lastminute.com Edinburgh Comedy Award.  It's hard to write about without spoiling it, just go and see it when it returns to the Soho Theatre in January.