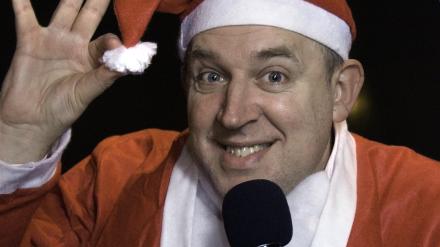 BBC Radio 4 has announced its Christmas comedy line-up. It includes shows from Tim Vine, John Finnemore, Sir Lenny Henry and a Just The Minute Panto Special. 
Sioned Wiliam, Commissioning Editor for Comedy for Radio 4 and 4 Extra, says: "This is an absolute cracker of a Christmas comedy line up. There is top notch musical satire with Richie Webb, Dave Lamb and Jess Robinson, wisecracking comedy from Tim Vine and another beautifully drawn vignette from Sir Lenny Henry. We've also got the definitive Donald Trump in amongst the Dead Ringers and a not to be missed opportunity to hear Nicholas Parsons and Paul Merton in Just A Minute Does Panto! I am really proud of this eclectic and timely mix of comedy for the Christmas season."
Details and Transmission times below.
Just A Minute Does Panto!
Just A Minute is 50 years old next year, and what better way to kick off the celebrations bycombining the longest-running panel show with another great British institution – the pantomime! In Just A Minute Does Panto! Nicholas Parsons is joined by Just A Minute regulars, Paul Merton and Gyles Brandreth, as they journey through Panto-land in search of the missing Just A Minute Golden Whistle. Their companions on their quest include Katherine Ryan, Rufus Hound and Shelia Hancock.
Sunday 25 December, 1.15pm
Dead Ringers
Over the festive season, Dead Ringers provides some tinselly satire, spreading goodwill to all menexcept those it will be stuffing and roasting. Listen out for light-hearted Christmassy versions of yourfavourite shows, from Panorama to File On Four, on 23rd December. And on 30th December, join the Ringers team as they look back at the year that never was, imagining what life would be like had Remain won, Trump lost and a host of other events that just might have happened.
Friday 23 and 30 December, 6.30pm.
The recently-discovered correspondence between Sandy, an upbeat but ever so slightly dim camelcarrying a king and some myrrh through the desert, and Martha, a thoughtful but rather sarcasticdonkey taking a heavily pregnant lady to Bethlehem.
In the first episode Sandy's rider is becoming concerned that myrrh might not be a very good gift fora baby, Joseph is not dealing well with the pressure of being a father to be, and Martha worries about going back to Bethlehem because her mother is bound to wonder why she is still single. Plus the roads are absolutely packed with over-excited sheep who seem to have got hold of the wrongend of the stick about what species the Lamb of God is going to be.mWritten by Robert Hudson and Marie Phillips, authors of Radio 4's previous epistolary animal
comedy Warhorses of Letters.
Monday 26 and Tuesday 27 December, 6.15pm. 
The Rogues Gallery At Christmas
Sir Lenny Henry stars as another character from his "Rogues Gallery" for this festive episode. This time this warming winter tale sees Lenny playing a migrant of restricted height, who battles his way to the UK and finds himself in a strange old people's home in Kent, where the secrets of Christmas are gradually revealed.
Wednesday 28th December, 6.15pm. 
The Tim Vine Christmas Chat Show
Fresh from a critically acclaimed Radio 4 debut in 2016 The Tim Vine Chat Show returns for a one-off Christmas Special. Polish off your Boxing Day leftovers and tune in for an early evening treat as Tim talks to the Great British Public about their favourite Christmas memories and delivers his trademark one-liners.
Monday 26 December, 6.30pm.
15 Minute Musical 2016
The US Elections are given a much needed Disney-style fairy tale make over and cabaret meetsBrexit in these two 15 minute musicals, both starring Jess Robinson, Dave Lamb and Richie Webb.Thursday 29 and Friday 30 December, 6.15pm.
John Finnemore's Souvenir Programme
The sixth series of John Finnemore's Souvenir Programme kicks off with a seasonal special, taking inTV adverts, woodland talent contests, a song about the best day of the Christmas season and what isalmost certainly the greatest story Finnemore has ever told. 
Margaret Cabourn-Smith, Simon Kane, Lawry Lewin and Carrie Quinlan star alongside John Finnemore.
Tuesday 27 December, 6.30pm.