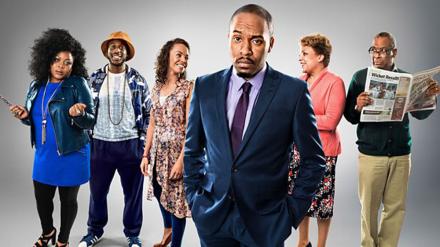 Dane Baptiste is a sharp, fast rising comedian and it is great to see that the BBC has given him a sitcom so early in his career. Sunny D came out of a Comedy Feed one-off and only consists of four episodes released online via iPlayer but it is still a positive step. And, more importantly, Sunny is funny. 
I'm not quite sure when the last black British sitcom was made – someone mentioned two decades ago – but that is what Sunny D is. The opening credits neatly subvert Cosby-style African-American family sitcoms and their jolly, smiley dancing intros. Baptiste plays Dane, approaching thirty and sharing a house with "an old couple" – his mum and dad. In the first episode it is his dad's birthday and after sampling a little too much of his father's special rum Dane makes a memorable speech.
While the show might frequently home in on Caribbean culture – you can't move for rice and peas in their kitchen – there is more than enough that is universal here. From the slacker son versus his perfect high achieving cousin (played by Akemnji Indifornyen and sounding a lot like Swiss Toni) to the jokes about Bake Off there is plenty to appeal to a wide audience. Veteran actor Don Warrington is good value as the wise old dad – my favourite moment was when an old photo of him is shown onscreen, clearly taken during his first flush of fame when he starred in Rising Damp.
While the humour is pretty mainstream, fantasy sequences and animations add a quirkier feel. At one point Dane's head is shrunk and he gets patted like a dog. Elsewhere flashbacks to childhood show that fights with his twin sister Kadean (Gbemisola Ikumelo) have been going on since they were children. 
Despite proudly flying the flag for black British comedy – Baptiste has talked about growing up on BBC Britcoms – Sunny D does actually have an American feel to it in that the pace is fast and jokes are crammed in at every opportunity. It is only the suburban setting and the London-West Indian accents that act as strong reminders that this is set in Britain. Location doesn't really matter though. What is important is that there are laughs, which there are. Hopefully the BBC will make more.
Sunny D is available weekly on BBC iPlayer on Sundays from November 13.