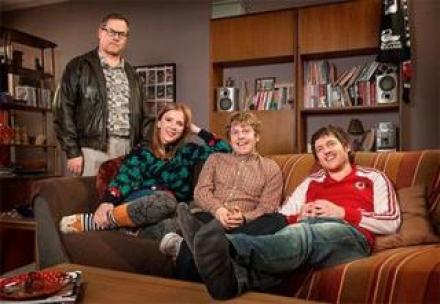 BBC Three sitcom Josh is to return for a third series. As exclusively revealed by Beyond The Joke earlier this year the sitcom starring Josh Widdicombe, Elis James and Beattie Edmondson has been recommissioned. Six new episodes will be made.
Written by Widdicombe, Tom Craine with Henry Paker and directed by David Schneider (I'm Alan Partridge and The Day Today), the quirky comedy follows the highs and lows of the eponymous Josh, an anxious old man trapped in an anxious young man's body. 
Josh will once again be joined by the regular ensemble cast: his hopelessly selfish flatmates, Owen (Elis James) and Kate (Beattie Edmondson), plus the world's most annoying landlord, Geoff (Jack Dee). Cameos throughout the two series have included; Jennifer Saunders, Michael Ball, Miles Jupp, Emma Bunton, Tamzin Outhwaite, Romesh Ranganathan, The Chuckle Brothers and James Acaster.
The second series, which was available first on BBC Three and then broadcast on BBC1, has averaged over an impressive 500k requests on iPlayer with 713k requests for the first episode alone.  In addition, the BBC One Friday night repeat has regularly achieved audiences of over 1 million, peaking at 1.3 million for last week's fifth episode, with an average 13% audience share. Boxsets of both series 1 and 2 of Josh are available now on the BBC iPlayer.
Josh Widdicombe says: "I am delighted that the BBC has given me another opportunity to humiliate myself for six 30 minute episodes. We absolutely loved every moment of creating the second series and are so proud that so many people enjoyed it. My only hope for series 3 is the British public get to enjoy Elis James's wonderful torso again." 
Shane Allen, Controller, Comedy Commissioning: "Josh's star keeps rising and this series has proven hugely popular with the audience on both BBC Three and One with its terrific core ensemble and very inventive writing. Long may his misfortunes continue to give us all enormous pleasure. We're laughing with him, right?"