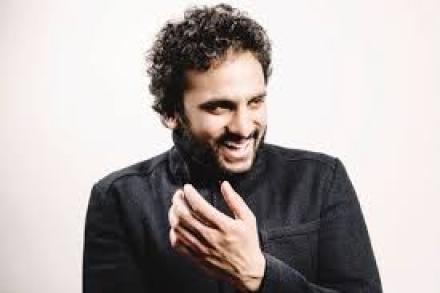 At the start of the Edinburgh Fringe 2016 the Evening Standard asked me to interview someone who would pick up a lastminute.com Edinburgh Comedy Award nomination. I took a punt on Manchester United fan Nish Kumar but it really wasn't a big gamble. Kumar is very much a rising star who has found his voice in recent years. Political, pertinent and, most importantly, very funny. Sure enough he picked up an Edinburgh Comedy Award nomination at the end of August. Full tour dates here.
Nish Kumar is a comedian who, you could say, has found his niche. He has been performing for a decade but this year's show at the Edinburgh Fringe is easily his best. Even better than last year's show, which was shortlisted for the Edinburgh Comedy Award.
The night before our interview his performance had ended with ecstatic cheers from the audience. "The crowd was really into it," says the slightly bleary-eyed Londoner over coffee the next day. Which is, I discover, not always the case.
In Actions Speak Louder Than Words, Unless You Shout the Words Real Loud the angry yet amiable 30-year-old dissects the state of the nation while also celebrating his love of music and wishing he was Coldplay's drummer. That way, he jokes, he could earn lots of money without the hassle of being recognised every day like Chris Martin and also get to sit down. The show was finished and ready to premiere on the Fringe until the night after the EU referendum, when he was doing a gig at the Comedy Store near Piccadilly Circus.
He was chatting away onstage when he heard something chilling: "Someone shouted 'Go home'. I couldn't believe it so I asked him 'Are you being racist?' and he said 'Too right'. And that was when the whole room suddenly got angry."
Fortunately for Kumar the rest of the audience took his side and the incident blew over but he now talks movingly about the shocking incident of what he calls "old-school racism" in his set. "I actually downplay the sinister element to keep the mood light. I just hope we aren't moving back to those days."
Kumar, who presents Radio 4 Extra's topical comedy show Newsjack, is rapidly becoming a familiar television face. The recent Brexit upheaval has helped him to find his voice. "Doing political comedy you do feel guilty that you aren't trying to change problems, you are merely exploiting them for your own financial gain. But the truth is that this stuff interests me. I wish sometimes I had a passion for hats and cheese and I could do a fun show about putting hats on cheese. I sometimes think that would be more fun than jokes about corporation tax."
The Brexit vote disturbed him so much that his body responded dramatically. When he woke up on June 24 and turned on the news he recalls being hit by a bout of violent diarrhoea. Although he is left of centre he is not a Labour Party member and has resisted the urge to become more active. "I've still got a bit of angst about campaigning for a particular party. I want to write jokes about whoever I want without toeing a party line."
Onstage he takes swipes at whatever he feels deserves a swipe, from the Spice Girls to colonialism to gentrification but mainstream politics is the recurrent theme. "I can't believe Labour has managed to create this much of a fuss. Despite Boris Johnson and Michael Gove quitting somehow Labour has come out of it in a worse state. It's almost to be commended… but crucially not."
Interview continues here.