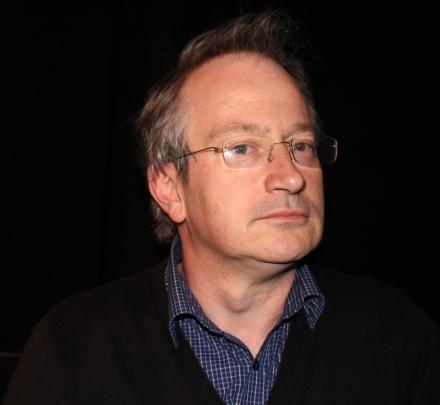 Robin Ince is the winner of the University of Northampton's annual Crick Science Journalism award. 
In accepting the award he indicated how much he enjoys making science entertaining for audiences: "I have had so much fun making and touring shows about science that it seems excessive that I should get something like this too. I feel very honoured to receive the award."
The Crick Science Journalism award is presented annually by the University of Northampton to the writer/journalist who has presented a scientific issue effectively to a lay audience. It is named after the Nobel Laureate Francis Crick who was born and educated in Northampton. Although not mainly a writer/journalist it was felt he has done as much as anyone in the UK to bring scientific issues and subjects to a wider and younger audience.
Previous winners are Tom Clarke, Science Editor of Channel 4 News and Tulip Mazumdar, global health correspondent for the BBC.
In presenting this award, the University is not only recognising Robin's work on the Infinite Monkey Cage (winner of the 2011 Sony award for best speech programme) but also his other science-based initiatives. Notable among these is the Incomplete Map of the Cosmic Genome, an online video-based science magazine and archive, as well as his annual science-based Christmas show Nine Lessons for Godless People which features comedy and music as well as contributions from leading figures such as Richard Dawkins and psychiatrist Ben Goldacre.
Professor Nick Petford, Vice Chancellor of the University, said: "We are pleased to acknowledge Robin's wide-ranging contribution to the popularisation of science.  His ability to combine comedy and scientific commentary is unique. "
Ince talked about his love of science in a recent interview: "There are a lot of intelligent, well-read comedians out there who are interested in science and who want to share their passions."
He will be presented with the 2016 Crick Science Journalism Award on Friday 14 October at 2pm at a special event for science and journalism students at Newton Grand Hall, Avenue Campus. That evening he will be on the stage at the Royal and Derngate, Northampton, with his co-host physicist Brian Cox in their touring show, Brian Cox Live.