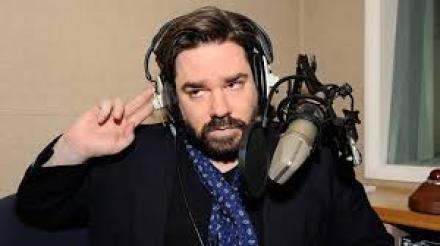 Sioned Wiliam, Commissioning Editor for Comedy for BBC Radio 4 and 4 Extra, says: "I'm absolutely delighted with this new crop of commissions from writers and performers, old and new. It's a joy to be able to work with such a broad range of talent on Radio 4 and there should be something for everyone in this new raft of shows."
Among the up-and-coming comedians who are getting their first Radio 4 shows is Rhys James, who through a unique, sketchbook blend of live stand-up, sketch and poetry, will explore the idea of identity. Rhys James Is… will tackle issues such as bravery, loneliness and privilege and interviewing those in his childhood who made him into the man-boy-child he is today.
Rhys says: "I am both incredibly excited and deeply terrified that I've had this show commissioned. It felt funny on paper to interview the guy who pulled my pants down at school on the radio, having not spoken to him for 10 years, but now it's real I'm spending all my time shopping for belts."
Lazy Susan: East Coast Listening Post, written and performed by Lazy Susan (Freya Parker and Celeste Dring), follows regular hosts Jenna and Dana - fresh from NYC - as they travel the United Kingdom, learning more about British culture and accidentally uncovering mysterious stories and odd characters along the way.
Freya and Celeste say: "A few months ago we organised a scratch night and took a punt on a new radio idea. We never expected it would take off, so to find out that the BBC are going to let us make it has left us baffled and delighted. It's a love letter to podcasts and we're so excited to get to work on it. Stay with us."
Elis James stars in a brand new sitcom Ankle Tag, which sees the lives of new parents Gruff and Alice interrupted by the unexpected arrival of Gruff's dad, who has just been released from a 15-year prison sentence for double glazing related fraud.
Lee Ridley, known as Lost Voice Guy, has cerebral palsy and can only speak using a communication aid. Pilot sitcom Ability will draw on his experience of coping with disability, telling the story of fictional character Matt, who is leaving home for the first time to move in with his best friend. Matt's parents are worried, but he is determined - even though his new carer Bob is not all he should be.
Lee says: "I've had the idea behind this sitcom in my head for a few years now, so to finally get the chance to make it is an amazing feeling. Ever since winning the BBC Radio New Comedy Award, the BBC has been very supportive and I'm lucky to have had the opportunity to work with some great people while writing this. It has been wonderful to hear my ideas come alive."
Lobby Land is a sharp satirical sitcom for post-Brexit Britain from the company behind BBC One's Have I Got News for You and Channel 4's Drop The Dead Donkey. Recorded close to transmission, it follows Fleet Street's newest political editor as she heads to Westminster to make hay out of the chaos.
Matt Berry returns to Radio 4 with a brand new show, Matt Berry: My Life in Broadcast.
Matt says: "I'm very excited to be back on Radio 4, this time to present a history of some interviews I took part in, dating back to the late 1960s and beyond. Some tapes have survived, some haven't. I hope you enjoy those that have. Either way, it's a pleasure."
Stand up Sara Pascoe explores our modern social world though theories of Evolutionary Psychology and more in her new series Sara Pascoe: The Modern Monkey.
Sara says: "I've been obsessing about the ape behaviours visible in our 'civilised' human interactions for nearly as long as I've been plotting to get a Radio 4 series. I'm thrilled that I've been given the opportunity to use the latter to explore the former - I'm off to eat lice out of friends' fur to celebrate."
Relativity is a multi-generational family sitcom, written by Richard Herring. Death, birth, falling in and out of love, resentment over forgotten slights and indestructible affection - it's all relative.
In Mrs Sidhu Investigates, Meera Syal stars as Mrs Sidhu, an Indian Home Counties caterer fascinated by murder; a British-Asian Miss Marple and indefatigable Aunty to her family.
Award-winning writer Sam Bain (Peep Show, Fresh Meat) adapts his own debut novel Yours Truly, Pierre Stone to create a radio comedy that spirals down into the dark fantasies of an obsessive fan in a one-sided love story that weaves together celebrity gossip, social media and a missing cat.
Described as 'The Good Life' for a new millennium, The Greens is a family sitcom written by and starring Marcus Brigstocke. Millions of people try every day to make 'good' choices and do the 'right thing', by being ethical, charitable and community minded - it's hard. But the Greens, good folk that they are, are not giving up and are trying about 20 percent harder and learning to live with about 19 percent more failure.
A Month Of Maureen stars Maureen Lipman in four brand new comedy plays written by Gary Brown, Amy Rosenthal and Tracy-Ann Oberman.
Joseph Morpurgo's Walking Tour offers an imaginative comic take on the traditional audio guide format, taking the listener on a surreal walk through a different location each week.
Multi-character YouTube star Damien Slash makes the move from online to Radio 4 in The Damien Slash Mixtape.
Following the pilot of Spotlight Tonight with Nish Kumar, the Edinburgh Comedy Awards 2016 nominee is back with a full series of the satirical show, in which he skewers his targets with a forensic wit.
Other new commissions include Tom Parry's Fancy Dressed Life, which recounts a year in Tom's life told through dressing up, inspired by his 2015 Fosters Comedy Award newcomer nominated show 'Yellow T-Shirt'; Comedy From the Edinburgh Stand, presented by Fred MacAulay; Jack Rooke Good Grief; and a new show from the co-creator of BBC One's Outnumbered Andy Hamilton.
In addition to the new commissions, Radio 4 brings listeners some network favourites. The much-loved The Pin will return for a third series, this time with even more to enjoy as each episode is extended to 30 minutes. Nurse (with Paul Whitehouse), Tim Key's Late Night Poetry Programme, Liam Williams: Ladhood, Cold Swedish Winter, Bunk Bed, and Love In Recovery are also among the returning series that have already made waves on Radio 4.