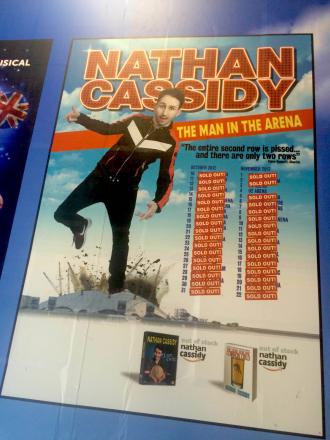 Comedian Nathan Cassidy has come up with one of the best publicity stunts so far at this year's Edinburgh Fringe Festival.
A fake poster has appeared in the pedestrian underpass by the major Pleasance Dome venue advertising Cassidy's fictional 2017 tour, The Man In The Arena. According to the poster all the dates are already sold out except for one night at the O2 Arena in London on November 4. 
The poster also advertises two imaginary Cassidy DVDs entitled I Am Orig and The Cure For The Common Cold and then using the Amazon typeface says they are "out of stock".
There is also a fabricated quote from website Chortle saying: "The entire second row is pissed. And there are only two rows."
Cassidy is currently doing a show at the Laughing Horse venue at the nearby Free Sisters pub entitled 42 which is described as "a quest for the meaning of life from this critically acclaimed, award-winning stand-up renowned for innovation. No two shows the same…"  Details here.*
*Though it might have helped if the poster featured his genuine dates somewhere.
Picture courtesy of John Fleming.