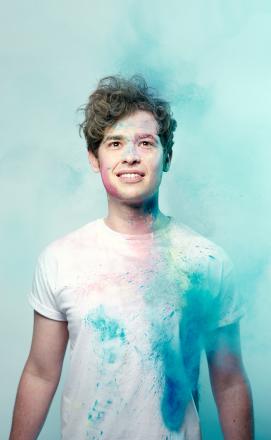 Brennan Reece is definitely going places. He won the English Comedian of the Year award in 2015 beating stand-ups old enough to be his parents and since then has performed in Australia and supported Joe Lycett on tour. He is a veritable livewire onstage, chatting about his family, his life, football and finding the funny side everywhere. 
Find out more about him and if he is coming to your town here.
Picture by Duncan Elliott.
1. What is the last thing you do before you go onstage (apart from check your flies and/or check your knickers aren't sticking out of your skirt and check for spinach between your teeth)?
I always always always, check my hair is in some sort of organised mess, I make sure my watch is ready to be set and roll up my sleeves.
2. What irritates you?
In life? Vanessa Feltz. In comedy? The fact it is never done. You can't complete comedy like you can with a book or a game. When you think you have completed one level, a new bonus level (admin) pops up, or there is a new boss at the end (Edinburgh).
3. What is the most dangerous thing you have ever done?
I once went car surfing with a friend. Yes I was drunk, and he drove his car, and I stood on top of it...then he slammed on the breaks and I fell on to the bonnet, and then as he was driving I decided to get off the car, but not at the side, in front...and he ran me over...I ended up in hospital. Silly boy.
5. What has surprised you the most during your career in comedy?
That it is actually a career that you can have. When I started, I had no clue that it was a thing people would employ you to do. Other little moments when that have surprised me, are that occasionally famous people might know who you are. Me and Debbie McGee have 30 mutual friends on Facebook!
Interview continues here.