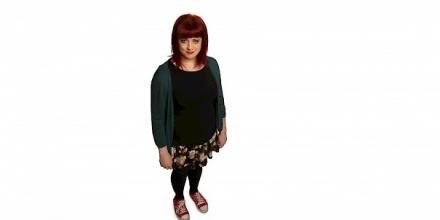 Update: listen to the first episode here.
Comedian Angela Barnes' first Radio 4 series goes out this August. Based on her critically acclaimed debut show at the Edinburgh Fringe 2014, You Can't Take It With You will be broadcast on Wednesdays at 11pm from August 10. 
The series is in part a tribute to Angela's late father, an enormous character - he was a sex shop manager, naturist, and a big fan of caravans and pranks. He was also a heavy influence on Barnes and taught her a carpe diem approach to life. His sudden death in 2008 was the catalyst that drove Barnes to pursue her career in comedy.
His motto was "You Can't Take It With You". Though Angela and her family proved him wrong and stuffed his coffin with sentimental keepsakes for his final journey. 
In this series the former nurse does the same thing and asks her loved ones to nominate objects they would choose to send on with her as mementoes of their time together, which she keeps in a "suitcase full of memories".
Angela Barnes says of the series: "I'm dead chuffed to have a series on Radio 4. I've been a BBC Radio 4 comedy geek for as long as I can remember so it means so much that they've let me have a go."
Barnes is from Maidstone, Kent, a gloriously gifted writer performer with a maturity and perspective reflected in her subject matters. After a career in health and social care, at aged 33 Angela decided to pursue a long held ambition and give comedy a go. Within a couple of years, Angela had won the '2011 BBC New Comedy Award' by a public vote, secured a weekly star slot in Channel 4's 'Stand Up For The Week' and has appeared on numerous radio and television shows including Mock The Week (BBC 2), Russell Howard's Good News (BBC 3), Russell Kane's Whistle Stop Tour (BBC Radio 2), 'The Now Show' and 'The News Quiz' (BBC Radio 4).