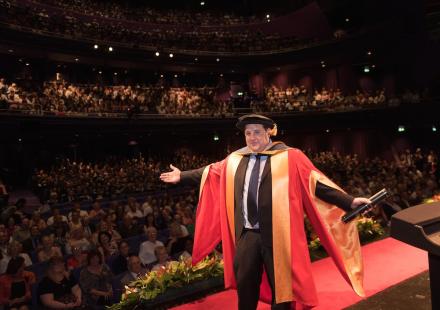 Peter Kay has collected an honorary degree from the University of Salford.
The comedian was given a rapturous reception from graduates and staff at his alma mater, where he completed his HND in Media and Performance in 1996, which included a course in stand-up comedy.
As he collected a Doctorate of Arts at Salford's Lowry Theatre, the Phoenix Nights star said: "I've turned down a few of these honorary doctorates over the years but I accepted this one because I actually came here to Salford University, so it really means a lot to me."
"When I graduated 20 years ago, I was feeling like many of the graduates here today about going out into the world. I knew I could make people laugh but I was frightened in case they wouldn't laugh. But I knew I would regret it if I didn't have a go. "
And he joked: "I'm not sure what this Doctorate is exactly - I hope I'm not on a plane when they urgently need a doctor."
Kay was born not far away in Bolton and his course at Salford marked the start of his career. After winning the North West Comedian of the Year award in 1997, he made his TV breakthrough with the BAFTA award-winning series Phoenix Nights, and since then has become a Guinness World Record holder for the most successful comedy tour ever, playing to over 1.2 million people at
140 shows.
He was awarded this honorary doctorate in light of his contributions to television and comedy and his ongoing support for the University, via visits and masterclasses.
Vice-Chancellor of Salford University, Professor Helen Marshall said: "We are delighted to be awarding one of the UK's most popular comedians and one of our most high-profile alumni, Peter Kay with an honorary doctorate."
Arts and Media courses at the University of Salford have produced a strong of acting and comedic talent. A few years after Kay Jason Manford went there.