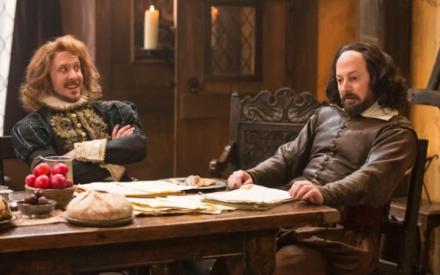 There was a bit of chat on Twitter recently about how Upstart Crow is a refreshing real sitcom, contrasting it with the trend for non-sidesplitting studio comedies, which I guess means things like Going Forward and Mum. I think there is room for both. I like the more subtle comedies and while there is nothing subtle about Ben Elton's Shakespearen send-up I can certainly see the attraction of Upstart Crow if you just want stupid, painless laughs and smutty innuendo.  
The third episode is a bit of an odd one. I'd like to hear more from Harry Enfield who plays Shakespeare Senior. He was in an early scene here and didn't even have a line, though he made up for it in a later scene that featured him shitting on a pot. And as for dashing Kit Marlowe played by Tim Downie, he is so much like Blackadder's rival Flashheart – not a bad thing in itself – it looks like he has dialled down his performance to avoid comparisons. 
The star here – apart from the excellent David Mitchell – is really Mark Heap as the bard's panto villain nemesis Sir Robert Greene. Heap gets to be gloriously OTT in this episode, plotting his revenge on country bumsnot Shakespeare by becoming a critic and slagging off his latest work in his pamphlet – cue timeless gags about everyone with a quill twittering away and thinking they are a critic (is this Elton settling scores after the drubbing he received for The Wright Way?).
Elton does seem to be good at historical comedy. There is a nice line about Elizabethan men flashing their "Bolinbrokes" and with the phrase "knocking out a Richard III" he may have invented a new euphemism for masturbation. It's all a bit like Blackadder of course, but it's funny. And that's what really counts.
Mondays, 10pm, BBC2. Catch up on iPlayer here.