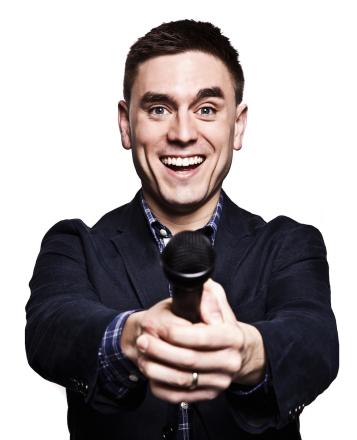 UK comedian James Mullinger has sold out an arena gig in Canada. Mullinger filled the Harbour Station stadium arena in Saint John where he moved to two years ago.
"When I moved here, I was told I wouldn't get any work as a comedian and last week I sold more tickets than Guns N Roses, Iron Maiden, Jeff Dunham, Def Leppard and Alice Cooper when they played the same venue."
He went on to explain how he did it: "How did a completely unknown jobbing comedian do this? Simple. Hard work and the support of the lovely people in a small city. This wasn't a victory for me, although it is very lovely. It is a victory for Saint John. And for self employed people everywhere trying to make a go of it."
"I had no big plan coming here. I had no big team behind me. I had no Canadian TV credits or festival credits. I had nothing except some jokes and a work ethic. I just came here, took every gig I could, did good work, people liked what I did and they came out in their thousands to support. It's that simple. And anyone could do this. I am not special in any way."
"My hero (and all time favourite stand up) Jerry Seinfeld previously held the comedy record for ticket sales at this venue. Somehow I broke it. This wouldn't be possible in a big city but in a small city in New Brunswick it is. That's why I live here. And it's why I will never live anywhere else. Hard work and being good at what you do pays off here."
Mullinger was formerly the comedy editor of GQ and has co-written a film about stand-up, The Comedian's Guide To Survival, starring James Buckley in a role partly based on Mullinger.