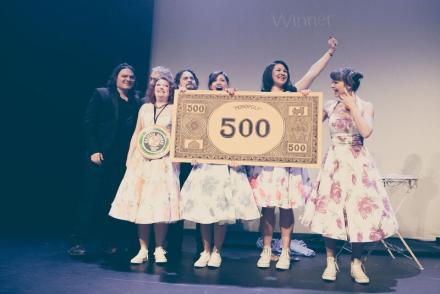 Over 400 acts entered this year's We Got Tickets Musical Comedy Awards, proving that there is clearly plenty of interest in an often-maligned form of comedy. The sold out signs outside the venue also highlighted the enduring appeal of the genre. Although judging by the partisan cheers as the finalists were announced at the start, plenty of the people there were either family or friends.
After compere Tina Turner Tea Lady's rollicking intro, first up was Making Faces, a threesome consisting of two men and a woman. Their act was a run-down of seven things to do before you die. I don't know if they have a longer version of this but the short set felt uneven, with some things on the list being one-liners and others being extended songs.
But there were certainly plenty of good gags along the way, even if the clean cut trio did look oddly like children's TV presenters from the 1970s. One of their hip hop songs inevitably evoked the spirit of Abandoman but they finished on a high with a surprising number about an unusual item of clothing which would certainly never feature on my bucket list. Still, good fun, but unplaced.
Next up was Jon Long, who fitted more into the conventional solo guitar comic template that actually you don't see so much of these days. Long had some very good one liners and one excellent one delivered with laser-guided timing. He said it was his favourite gags and it was my favourite too.
His closing song, however, was not quite as strong as it could have been. The moment he said it was about the unusual items he came across when he worked in a recycling centre I guessed what was coming – though maybe that says more about my mind and less about his comedy. He did put a good twist on a predictable routine and clearly went down well with the audience, bagging third prize from the judges and also the audience prize.
The first half closed with Brighton's Hannah Brackenbury – I presume that is her real name, as who would name themselves after a hapless fictional DJ? Brackenbury played songs on the keyboard in various styles, from pop to Gallic-tinged ballad and tinkered with lyrics to famous tunes.
Her Carpenters' Close To You parody gag was pretty similar to various jokes that went around the stand-up circuit a while back – most of the audience saw the pay-off coming, which was part of the fun, though maybe she didn't need to stretch the song out so long after getting the big laugh. There was a hint of Victoria Wood to her best moments, suggesting that she has plenty of potential if she concentrates more on clever songs and less on one-liners.
After the interval 4 Femmes on the Thames opened the second half with a splash. With a quartet of nattily dressed singers at the front and a three-piece backing band (including keyboardist Gavin, who may be the most eccentric piano man since the one out of Sparks) this jazzy combo quickly stole the show with a selection of tunes that ranged from the smutty to the smart to the smutty and smart.
They simply stole the show from the moment they strutted confidently on. In fact I was surprised they didn't win the audience prize as well as the judge's prize. They aren't particularly original and they are not an act that would work particularly well on a stand-up night, but they have oodles of style and charm. Put them on on a variety night and they will storm it every time. It was also nicely apt that 4 Femmes on the Thames won this gig on the banks of the Thames.
My heart sank when Ukes Not Dead came on. Ukeleles in comedy have been dead for about five years as far as I'm concerned. And yet the trio's punky folk songs were impossible not to like. Witty lyrics and high energy made a good combination and they also kept their cool when the bassist could not be heard. A technical problem was solved about a second before his solo and he deservedly got the biggest cheer of the night when he did his bit just in time.
Micky P Kerr's opening gambit of comparing himself to the people he looked like did not bode well, yet slowly this gangly guitarist won both the audience and the judges round with a succession of slightly quirky but not too quirky observations. 
I was sitting close to the back and hadn't noticed any problem, but halfway through Kerr's act he broke out of his routine to berate someone in the front for talking. It was a risky gambit but he was obviously being put off and his put down of the punter got everybody else on his side. Suddenly his performance really took off and he closed with an excellent John Cooper Clarke-ish list song about being arrogant that increasingly gained momentum as it went along. For an act that I initially thought might be placed last Kerr thoroughly deserved his runner-up spot.
Picture by Elina Kansikas.