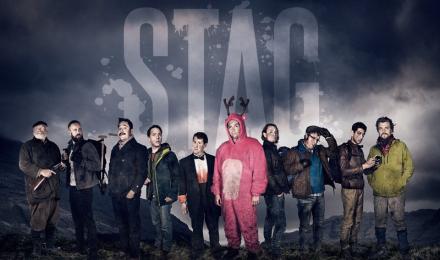 I'm not sure how much it qualifies as a comedy now that it has got proper scary, but I'm really enjoying Stag. It's not just the great cast, including Jim Howick, Stephen Campbell Moore, JJ Feild and Amit Shah, or the great scenery or the punch-to-the-gut-killings, it's pretty much everything.
Following last week's opener, in which a gaggle of wanker bankers and mismatched misfits found themselves abandoned in the Scottish woods and being picked off by a mystery murderer, this week they attempt to get back to civilisation. But they haven't got very far when a face from the past pitches up. Is he going to be a help or a hindrance?
Meanwhile Cosmo (Rufus Jones, channeling a bit of Oliver Reed/Burt Reynolds) decides to go it alone, only to come across the gamekeeper (James Cosmo) who has a habit of pointing his shotgun at the group because a) they took the piss out of him and b) he thinks they know where his dog is. 
In this second part the body count is still viciously high. People are still picked off when you least expect it. Just when you think the survivors might be making progress the blade twists and they are back in trouble again. By the end they are not any closer to being out of the woods literally or metaphorically.
Creator/director Jim Field Smith has created something really special here. It's not always entirely original – there are occasional nods/homages to everything from Deliverance and Final Destination to even Butch Cassidy and the Sundance Kid in this week's penultimate instalment – but it definitely still feels very distinctive. Once you start watching you certainly keep watching.
The only problem with this second part? Not enough of Tim Key and Reece Shearsmith. But if you've seen the opener you will know why. I've got my own theories about who is behind the killings but I fully expect them to be brutally dismembered in next week's closing episode.
Read review of first episode here.
Stag, Saturdays, 9pm, BBC2. Watch first episode on catch-up here.