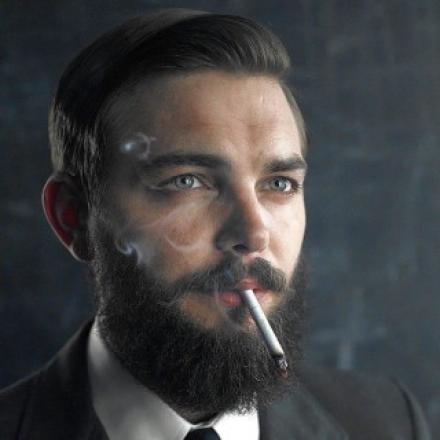 Appearances can be deceptive. The picture of Nick Thune here suggests that he is a Victorian time traveller or some smart hipster who can't leave the house until he has waxed his moustache. But look a little closer. Could that be a jazz cigarette he is smoking? That offers more of a clue to the kind of comedy you get from this Seattle stand-up who has made quite a few TV appearances in America and had his own Netflix special. 
Thune is best known for his Demetri Martin-style one-liners with musical accompaniment, but here he was strictly in storytelling mode. And dressed down in casual shirt and slightly scruffier facial hair. I arrived a couple of minutes in (lost cat, long unfunny story of my own…) to hear him talking about how his dog had to be rushed to the vet after eating some of Thune's weed. It's a funny story, with lots of nice lines and well-drawn descriptions. His wife is, naturally, furious. And pregnant, which leads him tidily into an anecdote about finding out their unborn baby's gender.
His brutal attitude is closest to Rob Delaney. There is a darkness here that no amount of deadpan cool can conceal. And also an arrogance. The picture he paints of a doctor patronising him does win him some sympathy, even if his smug "I was right" pay-off subsequently loses him some brownie points (note to Thune - in the UK "Brownie" doesn't always mean cakes that have hash in them). 
Unlike Delaney though, the tone here is very slow-burn, with small effective details and descriptions but lots of pauses and the occasional negative aside – sometimes commenting on how bad his UK gigs have been going. But I did enjoy the humour. Thune has been criticised elsewhere for his lack of charm, but that didn't really bother me. In the same way I don't think a sitcom has to star a sympathetic character to be a hit I don't think every stand-up has to be sympathetic. Is Frankie Boyle sympathetic? Is Jimmy Carr? Warmth can help but it is not essential.
Elsewhere Thune talks more about drugs, about nearly being assaulted by a couple of smalltown homophobes and has a story about being tempted to take a picture of someone threatening to jump off a bridge. The latter is not the funniest part of the set but does pithily make a point about our modern obsession with documenting everything and instagramming without thinking.
At Soho Theatre until Saturday. Tickets here.