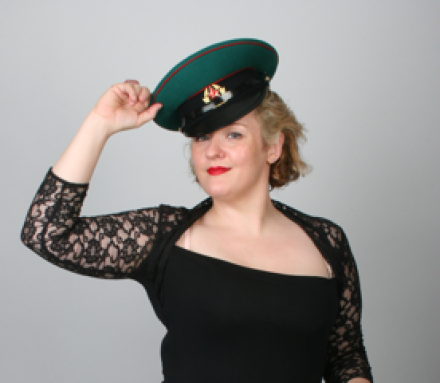 6. What do your parents/children (delete as applicable) think of your job?
In my opinion, children are a bit like Marmite – you either love them or you keep them at the back of the cupboard next to the mustard. Ergo, I don't have them nor want them. Nephews are enough for me. As for my parents – I'm estranged from my father and my mother wanted me to be an opera singer.  I love ad libbing in my comedy and you can't ad lib in Tosca.  As you can imagine, my mother is delighted that I discuss poo in handbags and Jeremy Clarkson's balls onstage, 
7. What's the worst thing about being a comedian?
It is a HUGE privilege to be doing a job that many people dream of doing – what is better than making 250 people leave a comedy club happy? Plus, I have no boss, my days are my own and I can lie-in most days.  And I get to collect condiments.  I am the condiments Queen.  
Having said that, the hardest thing is the endless travelling (I did over 400 shows last year- from Plymouth to Edinburgh, from Caerphilly to Norwich) and having to store a huge amount of condiments in the car. The absolutely worst thing about being on the road is the fact that Motorway service stations seem to stop serving food at 10pm.  Eating anything other than burgers on the way back from a gig is nigh impossible.  I am intimately acquainted with the facilities at virtually every UK service station. The toilets at Woodall services always honk.  
8. I think you are very good at what you do (that's why I'm asking these questions). What do you think of you?
I am always learning as a comedian. I think though, that my material is becoming more fearless and thought-provoking. It's a never-ending process.  I have different sets for different clubs and the show I'm taking to Moscow at the end of February, ANGLICHANKA (Russian for "Englishwoman") is totally different again. 
9. How much do you earn and how much would you like to earn? 
I earn enough to live on from comedy. Not a King's Ransom but enough to keep me in Bakewell Tarts.  I'd like to earn a bit more so that I can replace my shit car with something that has a heater that actually works. 
10. How important is luck in terms of career success – have you had lucky breaks?
Luck plays a part, but hard work is just as important.  When opportunity knocks you need to have your coat on ready to go. If you haven't honed your act and haven't paid your comedy dues in terms of experience, then no amount of luck, connections or pushiness will help you.  
I have been very lucky as a stand up. Getting into those bigger clubs has been through sheer graft though – doing 5s, 10s and then full 20s. My first breaks came from promoters who believed in me and what I was trying to do onstage.   I can't wait to see what a TV audience will make of my stuff. Hint, hint, lovely, gorgeous, cuddly TV peeps. 
11. Alan Davies has said that comedians fall into two categories - golfers and self-harmers. The former just get on with life, the latter are tortured artists. Which are you – or do you think you fit into a third category?
Neither. I hate golf and the clothes I'd have to wear to play it. In fact, I wouldn't be averse to harming people who play golf, with their own clubs.  I want people to be uplifted in my shows and to LAUGH. I don't see the point (or the relevance) of someone who lives in the comfortable West of Europe complaining about how shit their lives are – there's lots of good stuff in life too and sometimes, we just need to reflect on that a bit.   I'd probably be in a third category – those who write comedy, do comedy, get paid for comedy. Rinse and repeat.  To paraphrase Mr Hicks....it's just a ride. Enjoy it. Things could be so much fucking worse. After all, you could be Katie Hopkins or Sarah Palin.   
12. Who is your favourite person ever and why – not including family or friends or other comedians?
Two actually. Peter Falk's character in the 70s and 80s TV show "Columbo". A great actor and improviser. Everyone in public life should be more Columbo – he's considered, never jumps to the obvious conclusion and knows with absolute certainty that patience will deliver the result he wants. In a future show, I'm going to do a "Tao Of Columbo" – everybody needs a but of Columbo in their lives. 
Roberts Evans – the film producer, (still with us – he's 85 – he produced The Godfather, Chinatown, Rosemary's Baby etc). He was a maverick who fought for what he considered to be quality and excellence in movies against the might of the studios and made some pretty fantastic films. He defeated naysayers to be one of Hollywood's most influential people. I highly recommend his biography, "The Kid Stays in the Picture". It's a testament to be being brave in your own creative decisions. 
13. Do you keep your drawers tidy and if not why not?
I live out of a suitcase at the moment, so strictly speaking, my drawers are tidy as there is nothing in them.  My suitcase is currently on the floor of my bedroom with stuff all over the shop. That's the worst part of being on the road constantly – never being in one place for long enough.  That and never seeing mates and family unless it's a bar mitzvah, wedding or funeral.  
Pages