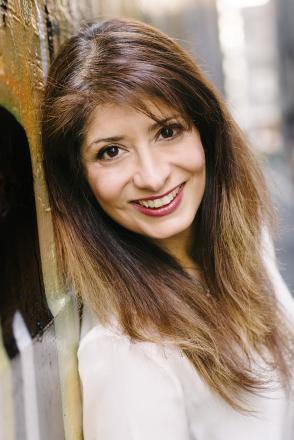 It has been announced today that comedian Shappi Khorsandi will succeed physicist Jim Al-Khalili as the President of the British Humanist Association (BHA). Khorsandi will be the twelfth President in the BHA's history and the fourth woman to take the role. She will begin her three-year term as President in January 2016.
A humanist all her adult life, Khorsandi was most recently one of several contributors to Michael Rosen and Annemarie Young's new children's book What is Humanism?, a project that is in keeping with her personal priority of having humanism better understood by young people in particular.
Born to non-religious parents in Iran, she and her family fled to Britain in her youth after her father, the poet Hadi Khorsandi, was targeted for assassination by Ayatollah Khomeini's regime after writing a satirical piece about the Islamic Revolution. Growing up in England, Shappi's childhood was marked by recurrent fears of her father being assassinated, and the family spent time under police protection. She has made numerous appearances on TV and radio comedy shows, including Live At The Apollo, Michael McIntyre's Comedy Roadshow, Friday Night with Jonathan Ross, Have I Got News for You and Q.I.
Announcing Shappi's appointment, BHA Chief Executive Andrew Copson said, 'It's a great pleasure to welcome Shappi to the Presidency of the British Humanist Association. Our President must be able not just to communicate humanism clearly but to connect on an emotional level with those many people in Britain who have humanist beliefs but don't know the word exists to describe them. As such a warm and accomplished broadcaster, not to mention an intimate commentator on the human experience in her standup and elsewhere, Shappi certainly has that ability in spades.'
Accepting the appointment, Shappi Khorsandi commented: 'It's a great honour to be selected to be the next President of the British Humanist Association. As someone who was raised in a non-religious family, I don't just believe that human virtues such as love, compassion, generosity, and understanding can exist outside the realm of religion... I know it for a fact. This approach has been hugely fulfilling in my own life, and it's the ethos behind everything the BHA does – whether campaigning for a pluralistic and cooperative society, offering pastoral care in hospitals, or providing meaningful non-religious ceremonies for baby-namings, funerals, and weddings.'
Previous Presidents of the British Humanist Association have included jazz musician and author George Melly, agony aunt and broadcaster Claire Rayner, comedian and broadcaster Linda Smith, cosmologist Hermann Bondi, anthropologist Edmund Leach, and evolutionary biologist Julian Huxley. On stepping down as President, Jim Al-Khalili will join his predecessor, journalist Polly Toynbee, and the moral philosopher A C Grayling, as a Vice President of the BHA.