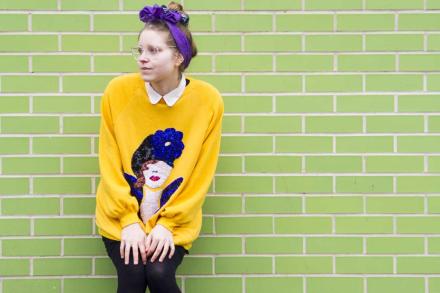 A version of this review appeared in the Evening Standard here.
Countless comedians discuss their anxieties on stage, but if oversharing was an Olympic event Jessie Cave would be a multiple gold medallist. In I Loved Her, this hip, oddball anecdotalist finds deliciously awkward humour in her obsessive behaviour.
Harry Potter fans will recall the comic and actress as Lavender Brown and while she still looks young she has had to grow up. As an unashamedly twee shadow puppetry section explains, she had a baby after a one-night stand with angry stand-up Alfie Brown. The attraction was probably there at a brief earlier meeting: "he was the fridge and I was the magnet." The couple stayed together but that has not resolved her insecurity issues. The backdrop is a Tracey Emin-ish sheet with names of Brown's ex-lovers stitched onto it. Cave recalls cyberstalking them and then doing some reasonably harmless real stalking to get some balance.
Her narcissism is so ridiculous it has excellent comedic value. She rattles through her monologue at a whirlwind pace, punctuating confessions with a demented cackle. There is clearly plenty of truth, but if this show was absolutely honest the hour on stage would be the only time she is not busy taking selfies, texting or Instagramming.
The twin themes are fear of rejection and the overwhelming tyranny of social media. In one revealing aside she wonders whether she would catch her iPhone or her baby if she dropped both. I assume this is a joke, though one cannot be too sure.
Jessie Cave has added further dates due to popular demand. Tickets here.