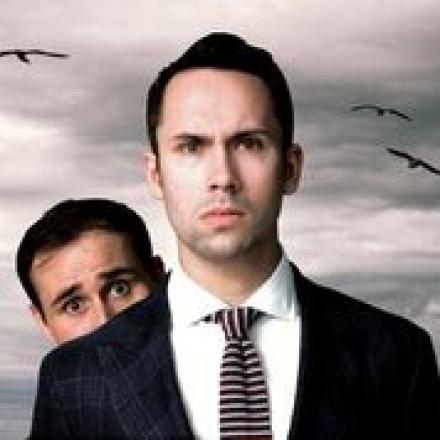 A version of this review first appeared in the Evening Standard here.
Everybody has visited a gloomy seaside town but none could be as eccentric or eerie as Sudley-On-Sea. Foster's Award nominees Max Olesker and Ivan Gonzalez stretch the sketch format to its limit with The End, their crazy, crafted narrative about an imminent coastal apocalypse.
The problem is the dodgy nuclear plant that looms over the shingle and probably glows in the dark. "Don't go on the beach" seems to be the Sudley motto. Lanky Olesker and stocky Gonzalez play a dizzying range of locals. Not a cast of thousands but it feels like it.
For starters there's the corrupt MP, the Hispanic perfume salesman, a string-obsessed bore and local writer Clive. One highlight is Olesker as geeky Billy, on a date with a woman plucked from the audience. The improvised dialogue reveals that Olesker is as good at thinking on his feet as he is with a script.
If there is a caveat it is that this has strong echoes of other hits. The offbeat location could be twinned with The League of Gentlemen's Royston Vasey, while the rapid-fire character changes evoke America's Pajama Men. Though Olesker and Gonzalez can also be distinctive. It is not often that you see someone impersonate a helicopter through the medium of interpretative dance as Ivan does.
Gradually the action builds to a Chernobyl-style meltdown. There is pathos alongside cartoonish farce as Sudley's townsfolk battle to escape. It would spoil the fun to say who survives. Needless to say Max and Ivan are destined to go from strength to strength.
For more on Max & Ivan click here.