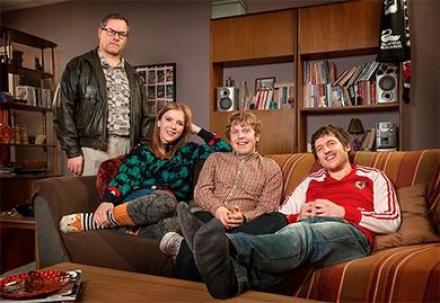 A flatshare sitcom about two dysfunctional blokes who seem incapable of growing up? Peep Show? No, we are talking about Josh, which by one of those quirks of scheduling starts its first series on BBC3 next Wednesday just as the first episode of the final series of Peep Show ends on C4. But flip channels and stick around, if you like one the chances are you will like the other.  
As the title suggests, this stars Josh Widdicombe as Josh, who lives with footie mad Welsh fantasist Owen (Elis James) and, for a bit of sexual tension, old schoolfriend Kate (Beattie Edmondson), while landlord Geoff (Jack Dee) has a creepy habit of spending too much time in their flat doing dad jokes and fixing light fittings. 
Although the title suggests this might be an attempt at an English Seinfeld it is really more like an updated, rebooted Men Behaving Badly. Josh isn't, from what we can tell, a stand-up comic. In fact in the first episode it is not entirely clear how they can afford such a reasonably appointed flat as they don't seem long out of university or have decently paid employment (if I missed an explanation please accept my apologies).
But that's the bad bit. The good bit is that this sitcom, which started as a one-off iPlayer pilot, is actually pretty funny. This week Owen and Josh are invited to a posh pool party, while Kate finds out that her kissing technique needs some work – she has accumulated numerous nicknames including "Bette Nibbler". 
The problem with the pool party, however, is that Josh can't swim. In real life you'd just confess that you can't swim, but this is sitcomworld so a chunk of the episode involves him tiptoeing around this embarrassing confession. It also gives Geoff an opportunity to give Josh some ad hoc swimming lessons aided by an ironing board and some particularly cringeworthy dad jokes. I think, well I hope, they are intended to be that bad.
Fortunately the script, by Widdicombe and Tom Craine, is also peppered with nice quips and asides and plenty of cultural namedropping, The OC, Shaggy, Michael Flatley. Even if Widdicombe is not going to give Benedict Cumberbatch any sleepless nights in the acting department he can certainly deliver a gag.
James, also a stand-up comedian when not getting bladdered at Welsh football matches, is also good. And Edmondson is much better in this than she was in The Wright Way, showing that if you've got decent dialogue you are halfway to a hit. David Schneider directs in a straightforward, go-for-the-gag, style.
Josh doesn't break the sitcom mould and the scheduling is slightly unfortunate. But it is well worth watching. Will it still be running be running in a decade? That remains to be seen. But for the next six weeks it will put a smile on your face for thirty minutes.
Wednesdays from November 11, 10.30pm, BBC3.
Watch Jack Dee give Josh a swimming lesson here.