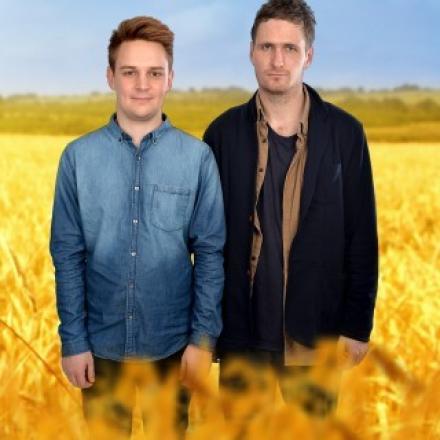 Let's face it, we all have our prejudices. And as much as I try to fight them I've got mine when it comes to comedy. I love stand-up and I love theatre. Yet I have a difficulty with sketch groups. Somehow they often tend to fall between too stools for me. Not theatrical enough to be theatre, not, erm, stand-uppy enough to be stand-up.
And that feels like very much the case with Goodbear. Joe Barnes and Henry Perryment are consummate sketch show performers, having emerged from respected University ensemble the Leeds Tealights. In fact Barnes is so consummate he is actually in two sketch combos, Goodbear with Perryment and trio Minor Delays. 
Of course there are exceptions to my theory. The League of Gentlemen or more recently Pappy's. But Pappy's – although they have a theatrical string to their bow, clearly have stand-up tendencies. According to the young duo's website Perryment does do stand-up so maybe I ought to check him out before I make sweeping generalisations, but I did get the strong feeling that the future for this duo is in acting.
Anyway, all of this is a roundabout way of saying that Goodbear's show is clearly really good. Exceptionally well-performed and frequently playful and charming with a clever-yet-subtle narrative strand running through it and an emotional sucker punch. Bits that don't quite make sense at first make a lot of sense later on. I can see the appeal. It's just not quite my thing. 
In a way it feels less like a comedy gig, more like a flesh-and-blood CV as the duo stylishly work their way through a number of characters and scenarios. A lot of their influences come from movies and television – war epics, costume dramas – and the way they switch from one scene to the next is impressively fast. Perryment is the more natural clown, with a funny/handsome face, while the teddy bearish Barnes' physical comedy is more self-mocking but just as skilful. 
If you want to see comedy that has some real thought and ambition in it then they are well-worth seeing. There are definitely a few stand-out moments and music is smartly used, but to give too much away would spoil things. I'm sure it was a coincidence but Goodbear's show reminded me a lot of one of my favourite TV comedy one-offs of 2015, but the less said the better.
One thing that is for sure is that Barnes and Perryment are clearly destined to make a name for themselves. I'm just not necessarily certain it will be in pure comedy. Think Hugh Laurie. Hugh Grant or Stephen Fry. All went on to interesting things having started out doing sketches. One way or another you will be hearing more from Barnes and Perryment. Just don't expect to be seeing them on Live at the Apollo. 
At Soho Theatre tonight at 7pm. Click here for more about Goodbear.