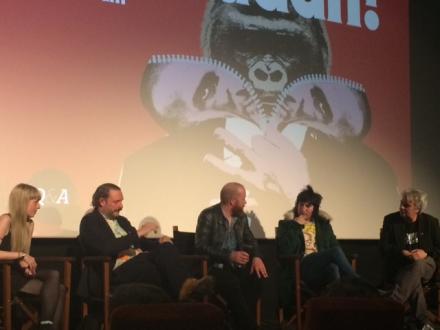 Julian Barratt has refused to discount the possibility of a Mighty Boosh reunion in the future, neither confirming or denying frequently talked about plans for a film with Noel Fielding.
Barratt's remark of  "Never say never" came when he was speaking at a Q&A on Friday night at Picturehouse Central in London following a screening of AAAAAAAAH! – the forthcoming film starring, written and directed by Steve Oram, who wrote and co-starred in Sightseers. His latest film is unique in that there is no actual English spoken in it. The entire cast communicates via ape-like grunts. Although Oram did write a script in English, which, he claimed at the screening, has now been destroyed.
There is, in fact something of an onscreen Boosh reunion in the film, which was shot largely in south London. Barratt has one of the lead roles, alongside Oram, Julian Rhind-Tutt, Toyah Wilcox, Alice Lowe, Tony Way, Waen Shepherd and Holli Dempsey, while Fielding has a cameo. We won't reveal too much about their roles now, but a review will appear on Beyond The Joke shortly.
At the screening Barratt was sporting an unusual haircut - short and swept back on the top, semi-mullet at the side. He explained that this was for the role of a detective in a film that he has just been shooting that he has written with Horrible Histories/Bill star Simon Farnaby. We presume this is Mindhorn. Barratt, Fielding, Oram and Holli Dempsey were interviewed onstage by Film Four Fright Fest director Paul McEvoy.
Talking further Noel Fielding added that he heard about AAAAAAAAH! when he was writing his tour show with Tom Meeten, who appears in his live show. Fielding was so keen to be involved in it that he hassled Oram until he gave him a part.
AAAAAAAAH! will be available on download and VOD from October 19 via the Frightfest Presents label. Info here.