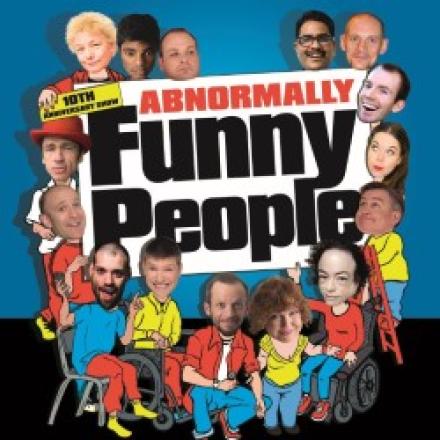 There is so much competition for audiences in Edinburgh it helps to have a unique selling point. In the past, Abnormally Funny People, the floating ensemble made up of comedians with various disabilities now celebrating its tenth anniversary, could have cornered their market. But in 2015 disability has been prominent on the Fringe, particularly performers exploring mental health issues onstage. But that doesn't stop AFP from being very funny. 
Nightly line-ups vary, but on the night I saw it Juliette Burton compered. As she explained with a smile, she might not look disabled because her condition is brain-related, but she has been anorexic, bulimic, you name it she has been diagnosed with it and she has a very good joke about labels to go with the story too.
The first act was Lee Ridley, aka Lost Voice Guy, who won the BBC New Comedy Award in 2014. Ridley lost his speech as a baby when he developed Cerebral Palsy and uses an iPad speech programme to tell his jokes. Part of his humour comes from the fact that he is a Geordie but sounds like Stephen Fry - he plays us the other options, which confirms that he picked the best of the bunch. While Ridley's jokes are irreverent, self-mocking and sharp, the deadpan robotic voice adds extra comedy. Maybe one day all comedians will do gags with an iPad.
Each night a special guest joins in and this time it was Jo Caulfield, who had barely embarked on her story about moving permanently to Edinburgh when she was playfully heckled off by the other acts, who remain onstage throughout the show. This was delicious revenge, giving the non-disabled a hard time for a change. Caulfield was a good sport about it, though I think some of the audience – me for one – might have liked to have heard a few more punchlines before she was banished.
Deaf comedian Caroline Parker had some revealing anecdotes about her day job of doing the signing for music videos. The only problem was that her main set-piece onstage was a BSL version of Bohemian Rhapsody. Given that Lee Evans has done the definitive comic take on this it was an odd choice. But Parker did teach us something – that the British Sign Language sign for politics and bollocks was quite similar. Though we could have probably guessed this.
Some elements of the show didn't quite work in the way that was intended. A new improvised section in which all the acts had to tell a story together using one word one-by-one was hampered by the fact that Lost Voice Guy took so long to type in his word. Then again it was very amusing to wait ages hanging on his every keystroke just for him to say "that".
The final act was Tanyalee Davis, who might be small at 3 foot 6 inches, but has an increasingly big profile thanks to a recent appearance on The John Bishop Show. Davis eased the audience in gently – "I'm different. I'm Canadian" – before smacking them between the eyes with some extremely filthy material, the highlight of which was her story of gigging at a swinger's party in Vegas.
Coincidentally Davis also reminded me of Lee Evans – like the arena comic she had a great way of adding a visual punchline to a verbal one – getting an extra laugh by pulling a face or doing a mime. Davis is a natural comic but also a very experienced one and it showed. There is a risk that PC critics will make patronising allowances in shows like this, but all the acts were good and Davis was exceptional. Head and shoulders above the others.
Until August 31. Tickets here.