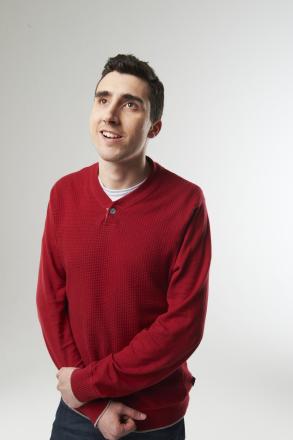 It is never easy being the last act on the bill in a comedy competition, but Steve Bugeja won the BBC Radio New Comedy Award in 2013 when he closed the show. His performance was so striking he felt like a headlining act rather than another competitor. He is not doing anything particularly radical, his neurotic style is geeky in a self-mocking Mark Watsonish way, but Bugeja showed a maturity and confidence that clearly impressed the judges. He went on to support Russell Kane on tour and now makes his eagerly awaited Edinburgh full-length debut in which he tells the story of how he recently went to a friend's wedding and on the way had to pick up the bride's dad who was leaving prison for the first time in 18 years. If his tale at the New Comedy Award final of mixing awkwardly with Magaluf lads is any guide this should be well worth a listen.
Steve Bugeja is at Just The Tonic, Edinburgh from Aug 6 - 30. Tickets here. He is also previewing the show at the Pleasance, N1 on July 29, tickets here. 
1. What is the last thing you do before you go onstage (apart from
check your flies, check for spinach between teeth and check your
knickers aren't sticking out of your skirt)?
I drink a lot of water.  I have an irrational fear that my mouth will go dry onstage, I genuinely worry more about that than actually being funny.  Think what you like about my act, as long as you notice how well lubricated my mouth is.  
2. What irritates you?
Not that much really.  I irritate myself quite a lot.  Oh and people who refuse to sit in their reserved seats on trains.
3. What is the most dangerous thing you have ever done?
I once deleted Game of Thrones from the sky planner before my housemate had seen it.  
4. What is the most stupid thing you have ever done?
I was having a meeting with an important comedy industry person, they took me to a posh tea shop in Soho.  I love tea, but I'm only used to the very basic kind.  I ended up not realising I had to use a tea strainer and just poured hot water and tea leaves into my cup.  Too embarrassed to admit my mistake, I just pretended that this was how I liked me tea.  Nothing came of that meeting.
5. What has surprised you the most during your career in comedy?
That I have a career in comedy. 
Interview continues here.