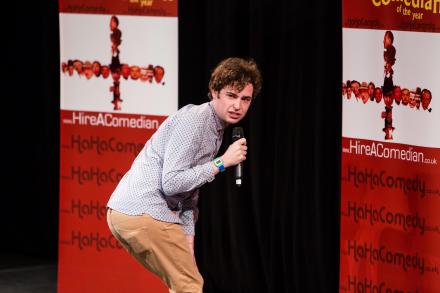 First act after the interval was Jake Lambert, who I'd previously seen in the Leicester Comedian of the Year Final. Like Brennan Reece, Lambert is very young and clearly very talented, but his material tonight, about dating and relationships peppered with some oddball wordplay, was a little too run-of-the-mill. Every now and then there was a neat turn of phrase and it's pretty obvious he is going to get better and better at this, ditching the weaker bits and putting in stronger lines, but tonight was not his night.
The eighth act, Lauren Pattison, was the only woman in the final and to be perfectly honest, she was not that good. Anyone reading this will be able to rattle off a lengthy list of talented female comedians who are English, but they presumably didn't enter. Pattison was not bad, but her material about dating and looking young was nothing special. She has only just graduated from university with a drama degree but didn't inject any particular personality into her short set apart from being clearly very likable. If she sticks at stand-up I'm sure she will improve, but she still felt very raw. What do I know though. Maybe in five years she will win the Edinburgh Comedy Award.
Ninth act Chris Turner immediately won the crowd over with a few gags about his chinless appearance. He was another act who put the audience at their ease, cleverly doing some easy warm-up material before getting into more challenging riffs such as delivering a beat poem. The meat of his act, however, was an improvised rap based around unlikely words offered by the audience. It's the sort of thing Abandoman do well but maybe Turner even had the edge on that combo. It probably got the loudest laughs of the night - not just because it was smart and funny but because it was so clearly off-the-cuff. If it had been an audience vote Turner might have landed first prize, but the judges made him runner-up.
Nick Clark was probably the only real dud of the night. He made a few apologetic gags about being a Brummie but actually his accent was so mild the audience may not have even realised he was from the Midlands. Things did not get much better when he started talking about trying to spice up his relationship by watching porn, comparing internet porn today with the 1980s VHS variety. His smutty style might have worked in a club when the audience was well-lubricated but it did not go down particularly well with the crowd here or the judges. 
The energy level was understandably flagging when final act Patrick Draper came on. Draper – who resembles the love child of Chris Moyles and Kevin Day – handled the apathy well by saying "I am also not a big fan of enthusiasm". His style was downbeat but did have its moments. He was the only act who used props, producing a map and then further printed documentation to discuss where twats come from in the UK, which felt refreshing after so many straight stand-ups. Two notes to the organiser -  great show, but less acts next year please.
*Me, Steve "Mr Chortle" Bennett, Reviewer & Booker Julia Chamberlain and promoter Brett Vincent.
Pages