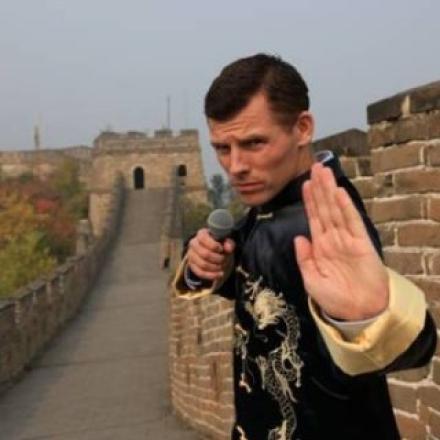 Due to popular demand Des Bishop is returning for a second run at the Soho Theatre from May 26 - 30. Ticket details below. A version of this review first ran in the Evening Standard when he appeared there in April.
Des Bishop has certainly gone far as a comedian. All the way to the Far East. In Made In China he explains how he learnt Mandarin from the locals. After all, he thought, that's a juicy market of 1.3 billion wanting observational humour. 
Much of his story is classic culture clash terrain. The strange custom of sleeping anywhere, the complex language where one tonal error turns his name into an insult, the difficulties obtaining Western hair dye. At first he worked as a lowly restaurant greeter, but the ante was upped when he landed a spot on the oriental version of dating show Take Me Out…
Bishop was born in America and lived in Ireland and combines the slickness of US stand-ups with the charm of Irish yarn-spinners. His delivery is so breathless it is impossible to be bored. And if your attention does drift his PowerPoint presentation is on hand to perk things up with quirky snapshots.
These evocative pictures confirm his unusual adventure, as did impressive ad libbing with Chinese members of his Soho audience. Comedy fans should be grateful that Bishop returned rather than conquer his new billion-plus demographic. 
Soho Theatre, May 26 - 30, tickets here.