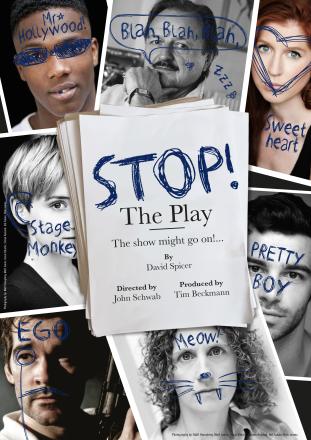 The 2011 Edinburgh Comedy Award winner Adam Riches is to appear in a new West End play alongside veteran actor Peter Bowles. Stop!...the Play by David Spicer will open at Trafalgar Studio 2 for a 4-week season from Tuesday 2 June - Saturday 27 June. in which the worst night in the theatre becomes the most hilarious play in town.
Act 1 is set in the rehearsal room as five neurotic actors, one inexperienced director and an overworked stage manager battle with the task of mounting what is surely the world's most terrible play. Act 2 is the chaotic first night. The production starts out as a worthy (if slightly dull) English kitchen sink drama, The Dark Heart of Art, about a struggling artist. But then daily rewrites start arriving from the persistently absent writer.
Characters are cut, new characters are introduced... everything changes from day to day. The cast battles to keep up. But instead of making the play better, the rewrites make it worse, and crazier. The Dark Heart of Art  becomes a shockingly sexual pseudo-psycho drama called Banksy Ain't Gay - a masterclass in appalling modern playwriting. (Anyone who has ever sat through anything which describes itself as 'edgy', 'experimental', 'controversial' or 'shocking' will recognise it with a shudder).
Adam Riches plays The Leading Man, Peter Bowles (To the Manor Born) plays The Seasoned Veteran and the cast also includes Tosin Cole (Hollyoaks) as The Hollywood Cameo, Hatty Preston (The Royals) as The Leading Lady, Hannah Stokely (Skyfall) as The Perennial Co-star, Charlie Cameron (National Theatre Macbeth) as The Stage Manager and Ben Starr (Survivor) as The Director.
This is not Riches' first foray into acting. In 2013 he played Andy Warhol in A Thousand Miles of History, by Harold Finley at The Bussey Building in Peckham*. Riches is planning to return to the Edinburgh Fringe this summer with a new show that is also "more of a play".
David Spicer has written stand-up and TV material for comedians including Jasper Carrott, Armstrong & Miller and Michael Barrymore. His extensive radio writing includes the acclaimed sitcom Double Income No Kids Yet with David Tennant and Kind Hearts & Coronets with Alistair McGowan. His first stage play, God Save the Mad Parade, is out on national tour early next year.
Stop!...the Play will preview in The Studio at Fairfield Halls, Croydon Tuesday 26 May - Saturday 30 May 2015 at 7.30pm Box Office: 0208 688 9291 www.fairfield.co.uk. For Trafalgar Studio tickets go to www.atgtickets.com
*Note: after this story appeared Adam Riches contacted me to point out that his Edinburgh shows also involve acting – "All that stuff I normally do, that's acting too you know? 'Like starlings do' is not how I normally take my tea!"