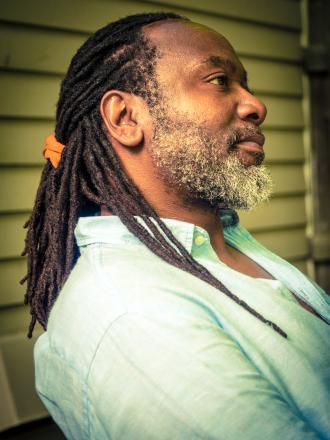 There was an intriguing interview with Reginald D Hunter in the Times recently which mentioned that the enigmatic American comedian was currently living in Croydon. Hunter did not want to elaborate too much on how he has ended up in the south London outpost, except to say that, "it is warm, I can be noisy late at night and, you know, there's a great turkey shop across the street."
There is still something slightly incongruous about this Georgia-born comic being based in this outpost. But then Hunter is not one for choosing easy options. In his live shows he discusses sex and race and is not afraid to say the unsayable on both subjects.
He must be doing something right though. He has been nominated for three Edinburgh Comedy Awards and in recent years has become a familiar face on television, lending his laid-back charisma to panel shows from QI to Have I Got News For You. 
Hunter is one of a number of American comedians who have decided to settle permanently or semi-permanently in the UK. Their reasons might be different, but one thing they all tend to agree on is that the comedy scene over here is much healthier than the comedy scene back home.
The other lauded US comic who spends a lot of time on this side of the Atlantic is Rich Hall. He first came over in the 1990s. He had become pretty famous in America, but the UK offered a new challenge. And like Hunter he was quickly accepted, with his Otis Lee Crenshaw character winning the Edinburgh Comedy Award in 2000. 
Others have also found that their distinctive voice is appreciated by British critics. Will Franken, from Sedalia, Missouri, spends a lot of time here where journalists rave about his Pythonesque flights of fancy. And mum-obsessed Al Lubel has also built up a cult following for his weird, neurotic humour. 
And then there is Lewis Schaffer. The New York comedian writes on his website that "a short visit to London in 2000 went very wrong when love and marriage took him from his beloved New York and gave him children, divorce and heartache in the UK. Now trapped in a multi-occupancy council flat in Nunhead, a suburb of Peckham, he is making the worst of a bad situation." London has clearly sent him mad – he writes about himself in the third person. But go and see Schaffer, he's truly a one-off. Thank goodness.
I guess the benchmark when it comes to Americans being embraced by Brits is Bill Hicks. His Edinburgh Fringe shows brought him acclaim and adulation and he ended up spending extended periods in the UK, even working on a show for Channel 4, Counts of the Netherworld, before he died in 1994.
So Hunter may not be the first US comedian to base himself in London, he is merely following a great tradition. But on the other hand, he probably is blazing a trail in one respect. He must be the first top-rate American comedian to relocate to Croydon.
Reginald D Hunter is currently on tour and finishes at the Brighton Dome on June 29. Full dates here.