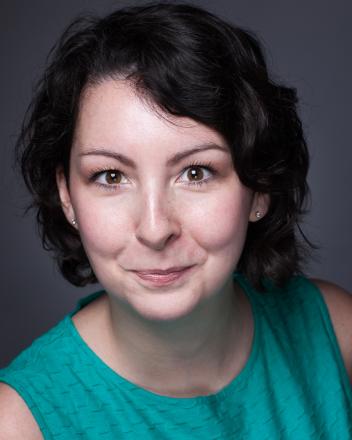 Samantha Baines has been crowned the winner of the third What The Frock! Newcomer of the Year Award. The competition was launched in 2012 to champion up and coming female comedy talent, to celebrate and support emerging acts and ultimately help to widen the pool of female comedians on the comedy circuit
The 12 finalists at Riproar in Bristol were Sara Louise Campbell, Sophie Willan, Abi Symons, Simone Keunen, Arna Spek and Samantha Baines, Angie Belcher, Sonia Aste, Hilary Fox, Laura Clarke, Anita Shaw and Anna Dominey  2013 winner Bethan Roberts entertained everyone while the judges deliberated.
Samantha Baines (picture by Michael Wharley) was the overall winner, with Hilary Fox and Angie Belcher coming in as runners up. The winning prize was £50 and a spot with us later in the year. 
Baines was also a Funny Women Finalist 2014. She plays Mary in the forthcoming film A Royal Night Out starring Rupert Everett and Emily Watson, which tells the story of Princess Elizabeth and Princess Margaret celebrating with the VE Day crowds. She recently guested on Woman's Hour for Radio 4 and on XFM in Tom Craine's Story Podcast. 
She has appeared on TV as Steph in Lee Nelson's Well Funny People and in guest roles in Hank Zipzer and new show So Awkward both for CBBC. She was also a founding member of the sketch group Vineger.