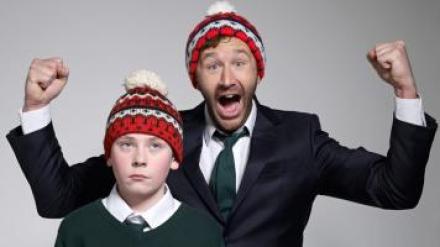 Is Moone Boy turning into Ireland's answer to epic coming-of-age movie Boyhood? The first episode of the third series is set in 1991 and finds Martin Moone (David Rawle) a little bit older, a little bit wiser and let loose on the streets of Dublin while his parents go off and have a second honeymoon away from the family.
It's a fine old way to start the new series. There are U2 jokes at every corner – the episode is called Where The Streets Do Have Names and Martin's Uncle Danny who he is staying with seems to know a lot of people called Bono. But when Danny finds himself indisposed it is up to Martin and best mate Padraic (Ian O'Reilly, who as ever, has the best lines) to take on his job, flogging that font of all knowledge, the Encyclopedia Irelandica.
Charm oozes from every pore here and there are also plenty of laughs. Chris O'Dowd seems to have taken a slightly back-seat role in this episode, but then he's a pretty in-demand actor these days. And maybe it makes narrative sense that he is not always around. As Martin grows up maybe he needs his imaginary friend a little less.
Luckily there is another star on hand, with Sharon Horgan playing an old flame of Martin's dad, who has become a bigshot entrepreneur selling "body margarine" – cue bad jump suits, yoga on the chilly beach and the obligatory rave scene.
As for this turning into Boyhood - O'Boyhood anyone? – that, sadly, may not happen. There have been reports that this going to be the last series. But at least it is going out with a bang. Charm? U2 jokes? Body margarine? What's not to like? 
Moone Boy, Mondays, 9pm, Sky 1, from March 2.