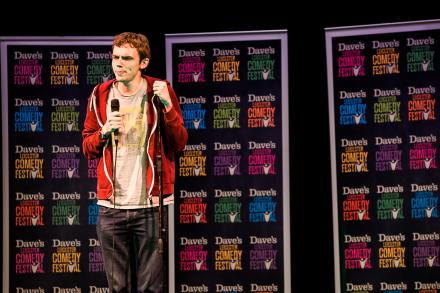 Not laughing apparently causes a condition known as "bum grape". Well, it does if I heard skilful Leicester Mercury Comedian of the Year host Rob Rouse correctly. Not much chance of graping of the bum at this year's competition though, with eight consistently comical acts hoping to follow in the illustrious footsteps of previous winners such as Johnny Vegas and Jason Manford.
First up was musical comic David Jordan, who took the bold step of taking the piss out of festival sponsors Dave with a song claiming that Davids are superior to Daves. I don't know if it was specially written for the competition but luckily it had a neat rug-pulling pay-off which brought a smile to the face of at least one judge – Steve North of Dave. Jordan's brash style was a little Bill Bailey, a little Mitch Benn, though you could hardly call this very big man Bailey-lite. He got some good gags about acknowledging the elephant-sized elephant in the room and some decent laughs out of a potentially hackneyed routine about pubic topiary.
The next act, Kiri Pritchard-McLean is the non-performing member of rising Mancunian sketch combo Gein's Family Gift Shop. Her stand-up material was not quite as dark as their warped skits, but had a fetching edginess to it in places, such as when she explained how the local takeaways think she is a prostitute when she visits them late at night after work. In one of the coincidences that comedy nights often throw up, she also had a routine about waxing. Plenty to smile at here if not distinctive enough to earn a placing.
Penella Mellor was a comedy character created, according to the press info, by Emma Kearney. And I hope she was totally a character, otherwise social services ought to be informed pronto. Much of her short set was about how she doesn't like her 10-year-old daughter. The delivery was decidedly deadpan as she moaned about her offspring's controlling nature and how she had to keep the crap that her daughter makes in craft classes at school and has to bring home. It was one of the more original acts of the night and while Mellor did not get a nod she was very well-received and we could well be hearing more from her.
When the final act of the first half Tom Little (pictured) shuffled on it looked as if he was the least confident performer ever to take the stage. For the first minute he barely lifted his head to make eye contact with the crowd. but it slowly became apparent that this was part of his nervy, neurotic schtick and as the audience bought into it so the chuckles began to flow.
Review continues here.