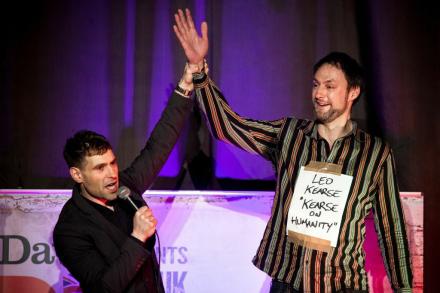 Puns and wordplay have made a comeback on the comedy scene in recent years with the rise of Tim Vine and Milton Jones. And Dave's Leicester Comedy Festival has done well to surf the zeitgeist with this competition, now in its second year, following Darren Walsh's victory in 2014.
The format for the final is innovative for live stand-up, with the eight competitors, entertainingly hosted by wisecracker Lee Nelson, facing each other in pun-offs, with quarter finals, semis and then the big showdown and the audience voting throughout. One can't imagine it working for surrealist storytellers, but for the quickfire format it was canny.
First up was Martin Croser against Richard Pulsford. Each had to come up with five gags about elections. The comedians were told all the topics in advance, but didn't know which they would be doing, so had to be well-prepared. Croser wasn't prepared enough and lost the room with a tortuous Sixth Sense film-pun about spoilering votes and Pulsford went through. 
Welshman Rob Thomas went through against Richard Woolford on the subject of "underwear", but this one was closer. Woolford nearly nicked it with "I got my girlfriend some slinky underwear and now she keeps falling down the stairs" but Thomas - the best performer on the night even when his gags made one wince – was victorious, thanks in part, I suspect, to his superior physical presence.
Tony Cowards v Rob Coleman had a bit of needle to it. Cowards turned up firing on all cylinders and dressed as a punning nun and gained a quick advantage before the official round had even started. He then went through thanks also to a selection of king-based banter ("Ethelred the Everready" etc),
Read more here.