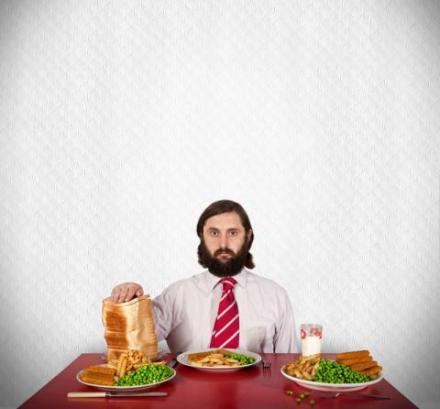 This show was billed as Joe Wilkinson And Guests, which gave it something of a frisson. Would it be a themed evening of scruffy anti-comics wandering around the stage aimlessly telling so-called jokes? That would be fun, but maybe too much too take for even the most committed anti-comedy fan. Instead, this was like a more conventional club gig in a posher venue. The only thing the three acts had in common was the same management. It was all pretty normal until Wilkinson appeared. But more of him shortly…
First up was Paul McCaffrey, who resembled a number of cabbies I've encountered over the years and at times sounded like them too. Not in any bad send-'em-back-'ome way, just in the way his best material consisted of chatty, chirpy comic gripes. One was even driving-related, an extended complaint about receiving an unfair parking fine. Joe Lycett has probably done the definitive routine on this subject, but McCaffrey's gag did have a brilliant pay-off. If he wasn't the most original of comics – there's a bit of a Southern Jason Manford in there too – he certainly got the evening off to a strong start. I would have liked more from him but it was a short set. Maybe he had a fare to pick up.
Jarlath Regan was up next. I've been waiting for this Irishman to take off in the UK and for some reason I'm still waiting. He does a great podcast and is so smooth and relaxed onstage he sometimes feels like a mainstream US comic. Not in a bad way. Again, like McCaffrey, maybe he plays it a bit safe at times, opening with a gag about his unusual first name before embarking on an extended riff about the new haircut that wasn't what he had asked for. Which made me wonder – was it one-off material or does he regularly have bad haircuts so that he can do this material? His tales of stressful parenthood – he claimed he only took the gig to get out of the house – added a few pleasing zingers to a familiar subject.
Regan went down very well but noted that the applause he got was the kind of applause you give "to someone you didn't pay to see". After the break the claps were noticeably more enthusiastic when Joe Wilkinson shambled on. In fact they were so enthusiastic he walked off and on again so that he could milk the appreciation. The other reason he did this, it turned out, was that by his own admission he did not have enough material to fill an hour.
Yet the absence of a big enough script didn't really matter. The first ten minutes saw him pulling odd things such as a toy cat out of his pockets, admiring the stage lighting and getting someone in the front row to kiss him in return for a lend of the microphone stand ("it's a finger rest" - JW exclaimed). Nobody really cared whether this was planned or not. I suspect it was a bit of both.
Wilkinson is probably best known for being the dopey assistant on 8 Out Of 10 Cats Does Countdown and the creepy neighbour in Him & Her and here he was a similar mix of dim and disturbing, even though he did look a bit smarter for a change. Decent haircut – clearly a different barber to Regan – and hipsterish shabby suit. There was more than a hint of Tim Key (and also Brian Gittins – Wilkinson played his doppelganger brother in C4's Derek) about his offbeat observations too.
Like Key, Wilkinson rarely tells conventional jokes. It is more the way he delivers his lines and his persona that makes them funny. And when he does tell conventional gags, such as complaining about getting booty calls from members of his family, or breaking into people's houses and surprising them, they are in dubious taste. It was no shock that he got one of his biggest laughs when he wondered out loud why he had never been invited onto Live at the Apollo.
While it was not always clear whether he was playing a character here or being himself, one thing that was certain was that as he predicted, Wilkinson did not have enough material to fill an hour. After about 45 minutes he went off very abruptly. The cheers brought him back on though and as he meandered around and wondered what to do next he struck comedy gold when a member of the audience named Joe too ("with a J?") engaged him in conversation and seemed interested in paying £600 for Wilkinson's toy cat. Except that he couldn't get all the money out of the cash machine in one day. "I'll wait," giggled Wilkinson, who happened to have nicked the fan's phone by then. 
He then struck another rich vein with a middle-aged superfan called Peter in the front row, who was invited up onstage and promptly found himself cuddling the performer on the floor. Wilkinson has not gigged much recently but he still has enough comedy instinct to realise that he could not top this and really did leave the stage for good this time. Conclusive proof that while some comedians need a script, others are arguably better off without one.
Also Jan 23 & 24, tickets here.