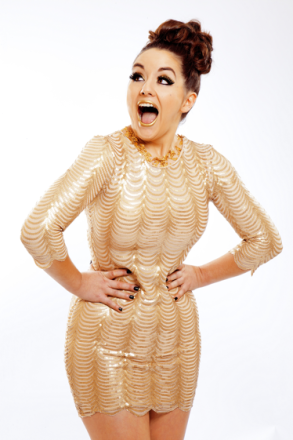 Given that Holly Burn's viral Victoria Beckham clip is all about asking questions we thought it was only fair that we asked Holly Burn some questions of our own. At the start of the week she knocked out a quick el cheapo clip sending up Victoria Beckham's recent video interview for Vogue and the nation's press promptly picked up on it. Not only that, but Beckham herself sportingly retweeted it too. It's a beautifully executed showcase for Burn's madcap sensibility. She has been doing the same sort of thing, though maybe with less restraint, on the circuit for the last few years. She does rather have a fondness for being over the top. We've printed her answers as she wrote them, complete with her very own capital letters. To find out what Burn is up to next go to Burn's website here or follow her on Twitter @burnholly. And click here to see that video. 
           1. What is the last thing you do before you go onstage (apart from check your flies, check for spinach between        teeth and check your knickers aren't sticking out of your skirt)?  
 - DANCE! GET PHYSICAL! LUNGE! 

 

2. What irritates you?

PEOPLE NOT PAYING ATTENTION. PEOPLE ON THEIR PHONES

 

3. What is the most dangerous thing you have ever done?

- TOO MANY TO THINK OF ONE STAND ALONE EXMPALE. FLINGING LOTS OF WATER AROUND  IN CLOSE CONTACT TO ELECTIRICYT ON STAGE. THROWING MYSELF AROUND.

 

4. What is the most stupid thing you have ever done?

- I MEAN SOME WOULD SAY EVERYTHING I DO .

 

5. What has surprised you the most during your career in comedy? 

- THE THINGS LIKE THIS VIDEO i MADE WITH AMY DALLMEYER IN AN EVENING ON AN IPHONE GETTING 23000 hits in 48 hours- that surprised me. 

 

6. What do your parents/children (delete as applicable) think of your job?

- MY PARENTS HAVE ALWAYS BEEN VERY SUPPORTIVE . THEY LIVE THE HIGHS AND THE LOWS WITH ME

 

7. What's the worst thing about being a comedian?

- ALL THE TIME ALONE .

 

8. I think you are very good at what you do (that's why I'm asking these questions). What do you think of you?
- HA! THANK YOU! I HAVE A LOT TO LEARN! 
 

9. How much do you earn and how much would you like to earn?

-PAH!!!!!! 

 

10. How important is luck in terms of career success – have you had lucky breaks?

- IF YOU GET BETTER AND DO THE WORK AND STICK AT IT LONG ENOUGH- THINGS WILL HAPPEN. I"VE HAD LOTS OF GOOD FORTUNE ALONG THE WAY AND LOTS OF PEOPLE BEING LOVELY AND SUPPORTIVE. THAT HAS GOT ME THROUGH.

 

11. Alan Davies has said that comedians fall into two categories - golfers and self-harmers. The former just get on with life, the latter are tortured artists. Which are you – or do you think you fit into a third category?
- BIT OF BOTH PROBS!   I PITCH AND (P)CUT! ? eeek?! (BTJ editor's note, I think she might mean "pout"?)