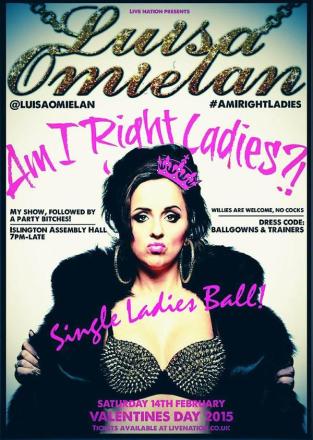 Luisa Omielan is headlining a special one-off Single Ladies Valentine's Ball on February 14 at Islington Town Hall in north London. The show is followed by a party and the dress code is "ballgowns and trainers". Men are also welcome and they do not have to wear ballgowns.
This is a busy year for Omielan, who is due to tour Australia for three months and has various TV projects in the pipeline. After two years of playing to packed houses at the Edinburgh Fringe but being overlooked by awards judges, however, she has decided not to go back this year.  "I'm not going back until my new show Famous With A Baby! writes itself!", she told BTJ.
Tickets for the Valentine's Ball here. Luisa Omielan is also performing extra dates of her show Am I Right Ladies?! at the Soho Theatre from February 2 - 7. Tickets here.