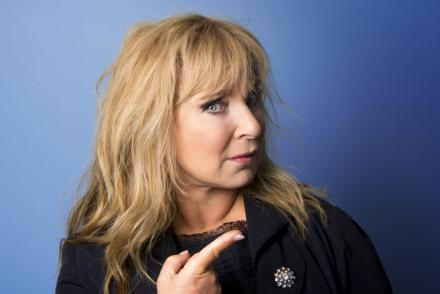 CWIP have announced their shortlisted candidates for their Published Novel category for 2022/23. The awards, devised by comedian, actress and author Helen Lederer, are now in their fourth year, and will be held at the Groucho Club on 17th April.  Honorary awards at the glittering ceremony at the Groucho Club to include a very famous, enduring winner, as well as a famous break-through witty woman. 
Eight authors have been shortlisted by a celebrated panel of judges that include Arabella Weir, Susie Blake, Anita Dobson, and Angie Greaves. The winner of this category must have written a comedy novel published between 29th May 2021 and 14th October 2022. The winning writer receives a cash prize of £3000 from the ALCS and the runner up £1000.  
Absurd, modern, rude, and eminently relatable, the humour in these titles has the power to travel to new audiences...this year's titles are less about gags and demonstrates the multitude of ways women express humour about the darkest, most urgent topics – grief, sex, guilt, class, race, workplace and sexism…   
The shortlisted titles are:  
Love Marriage by Monica Ali 
The Startup Wife by Tahmima Anam 
Factory Girls by Michelle Gallen  
Lessons in Chemistry by Bonnie Garmus 
The Lock In by Phoebe Luckhurst  
The Exhibitionist by Charlotte Mendelson 
Head Judge Angie Greaves said: "The panel had the most difficult task of creating a shortlist. After much debate, I feel that we've created a list that reflects creative writing at its best as well as representing comedy at its best.  Books that make you laugh whilst you're reading and enables you to paint pictures in your mind are priceless."    
CWIP Founder Helen Lederer (pictured) said: 'Selecting 8 was very painful as all entrants provided wit and joy in so many different ways. We have a crop of debut novels, including one that has already gone to TV, as well as new pleasures from established witty authors. CWIP is a platform for witty literature as much as a competition.  Until a few years ago we were mostly laughing at men's funny books as they were championed more. CWIP has changed that.  By providing a shop window of witty women's titles – the laughter AND the parity has increased! The prize has changed the landscape of winners: 50% of published book awards are now won by women compared to less than 5% previously. 
Previous winners and highlighted CWIP authors have included Dolly Alderton, Mel Giedroyc, Nina Stibbe, Candice Carty-Williams, Gail Honeyman, Diksha Basu, Andi Osho, Daisy Buchanan and Beth O'Leary, who demonstrate the wide breadth of reliably funny voices.  Bestselling author Marian Keyes is a patron of CWIP. 
The awards have also announced the shortlist for the Unpublished Novel of over 80,000 words. This year's list offered originality, alongside relatable characters and bold humour.  
The winner will receive a book deal with Harper Fiction and a £5000 advance, and the unpublished runner-up receives a place on the University of Hertfordshire MA course in Creative Writing or Writing Mentorship. A second runner-up will receive a place on the online MA in Comedy Writing from Falmouth University – the first of its kind in the country. The CWIP 'Book to Screen' mentorship award in partnership with Schoobert Productions is given to the third runner up.   
At a time when female comedy writers such as Phoebe Waller-Bridge, Sharon Horgan, Michaela Coel, Daisy May Cooper, and Derry Girls' Lisa McGee are continuing to break new ground and produce outstanding scripts CWIP is proud to highlight six similarly anarchic and daring writers.  
The Comedy Women in Print Prize 2023 shortlist for Unpublished Novel is:
While He Looked at the Moon by Christina Carty   
Death and Her Life by Veronika Dapunt   
Miss Merriman Regrets by Louise Jensen   
Swiping at 60 by Niloufar Lamakan  
Happy Above Us by Silvia Saunders  
Second Chance by Joanna Waldron  
Godfellas by Nicola Whyte   
CWIP was established to celebrate women's wit and to enable writing careers where doors had been closed. The act of publishing an unknown writer, by a well-known publisher, plays a significant part in achieving this aim. This is the UK and Ireland's first and only prize to shine a light on witty novels by women - celebrating diverse female voices and kick-starting comedy writing careers.   
For the first time CWIP has partnered with Farrago with a Short Story category resulting in an anthology called The Book of Witty Women – 15 laugh-out-loud short stories by women writers to be published this autumn. 
The CWIP Prize was launched by Helen Lederer in 2019 as a literary platform to increase exposure for diverse female witty voices in comedy fiction, and as a way of celebrating fresh and established talent. Helen comments: "I can't believe how CWIP has grown and evolved in four years! Apart from celebrating a wider reach of topics in witty fiction this year, we can also celebrate a growing list of new 'career writers' who may not have been published without this platform. Our USP has to be having a publisher, trusting enough to publish an unknown writer from the start. Not boasting but just saying…"         
Since CWIP began in 2019, 48 top witty authors have been celebrated and 20 new writers' careers have been launched – the most recent success story being Rebecca Rogers with 'The Purgatory Poisoning' released on March 2 (Harper Collins).   
The CWIP Honorary Awards, including famous and acclaimed 'Best Writer' and 'Game Changer' will also be announced at the awards event, in addition to a special CWIP Legacy Achievement Award paying homage to the late great Sue Townsend.