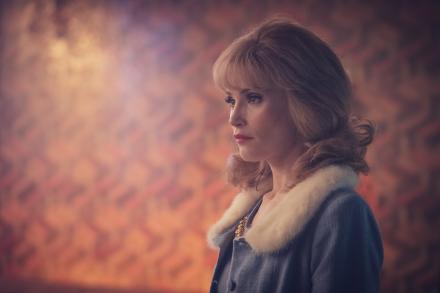 When I first read that Sky was making a series about a woman fighting sexism in the world of comedy, I expected to see an English version of the award-winning The Marvelous Mrs Maisel, which charted the career of a groundbreaking Joan Rivers-like character. What we get in this six-parter based on the Nick Hornby novel Funny Girl and adapted by Morwenna Banks has certain similarities, mixing social comment and comedy, but with a distinctly English saucy sixties seaside postcard edge to it.
Gemma Arterton plays Barbara Parker, a feisty young woman who wants more out of life than a factory job and a family. After winning a beauty contest in Blackpool she heads for the bright lights of London and tries to make it in showbusiness, reinventing herself as Sophie Straw.
The plot has so many obvious bullet points it feels a little like a gun-riddled corpse. As well as the Maisel similarities – Barbara is gobby and takes no shit – the look of the programme falls back on a number of swinging 1960s London cliches from red buses to tawdry Soho strip joints. If you saw the recent Edgar Wright film Last Night In Soho you can imagine what scenes here will look like.
But having said that Funny Woman has a lot going for it. Arterton is a strong lead and at the end of the first episode when she auditions for a comedy role shows that she has comedy bones. And the supporting cast is pretty impressive too. Rupert Everett plays her old school mentor Brian Debenham and has either gone very method or used a lot of prosthetics to make himself appear as grubby as possible. David Threlfall plays Barbara's dad. Alexa Davies from Detectorists plays Barbara's new flatmate Marjorie (and looks a dead ringer for a young Adele if anyone is thinking about a biopic of the singer).
It's a little bit on the box-ticking side at times, with racism and class covered as well as sexism, but there is more than enough plot activity in the first episode to keep you watching. Will Arterton's Barbara/Sophie turn out to be the British Lucille Ball? Or maybe a cross between Barbara Windsor and Felicity Kendall? It's definitely worth sticking with to find out.
Read an interview with Gemma Arterton here.
Funny Woman, Sky Max, Thursdays from February 9, 9pm. Full six-part series available now on Now.