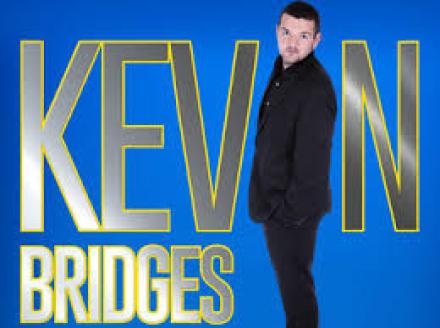 Ticketmaster has today revealed that Scottish comedian Kevin Bridges was the most popular comedy act of 2014 in terms of clicks on their website.
The Clydebank-born 28 year-old embarks on a 99-date tour next year, the follow up to his record-breaking 'The Story Continues' tour in 2012 which included a sold out nine show run at the Glasgow SECC Arena as part of the mammoth 136-date tour.
Runner-up on the list is Lee Evans who, having toured for more than 20 years, announced his retirement from comedy in November this year. As one of the first comedians to pioneer the arena show, his 65-date 'Monsters' tour, which ended in the same month he announced his retirement was unsurprisingly in very high demand. 
At number three, is Mrs Brown's Boys who, having manifested as books, radio plays, DVDs and on television, is returning to the stage in 2015. Following the release of Mrs Brown Boys D'movie, 'How Now Mrs. Brown Cow' will be playing to UK arena audiences next year in a three leg tour spanning 2015.
At number four is Michael McIntyre, whose 2015 'Happy and Glorious' tour is tipped to play to up to 750,000 people. John Bishop, who recently added an extra date at the Royal Albert Hall to his ongoing 'Supersonic' tour, completes the top five.
In sixth place is Peter Kay's 'Phoenix Nights Live', which returns for a run of shows at the Manchester Arena next year in aid of Comic Relief. The comeback will feature the original cast from the cult comedy TV show, all of whom are all donating their time for free, and was originally scheduled for just two dates. However, unprecedented demand caused the run to be extended three times already currently standing at 15 shows. Phoenix Nights is followed by Scottish pensioner comedy Still Game at number seven, who had a residency at the SSE Hydro Arena this year.
In eighth position is Lee Mack, who is currently on his 'Hit the Road Mack' tour, his first in 4 years. Jimmy Carr is at number nine. Carr recently treated his entire audience to a drink when his train broke down on the way to a gig and is currently touring his 10th tour 'Funny Business'into 2015.
Closing the list at number ten is the Big Yin himself, Billy Connolly, who kicked off his 'High Horse' tour in his native Scotland this autumn. As his first Scottish tour in five years and his only UK dates so far, the homeland shows were in huge demand and sold out in less than an hour.
Commenting on the list, Ticketmaster UK Managing Director, Andrew Parsons said: "The UK comedy scene continues to go from strength to strength and we can see that in this list. Earlier this year we conducted a thorough investigation into the world of comedy with our State of Play UK report and it was clear to see that the comedy industry is thriving. Big acts are playing arenas much more accustomed to staging rock concerts - and selling them out. It's also great to see the diversity of comedy reflected, as the acts featured hail from a variety of regions and cover a wide range of comedy styles." 
See below for top 10 most popular comedy events on Ticketmaster.co.uk in 2014:
Top 10: Comedy
Kevin Bridges
Lee Evans
Mrs. Brown's Boys
Michael McIntyre
John Bishop
Phoenix Nights Live
Still Game: Live
Lee Mack
Jimmy Carr
Billy Connolly