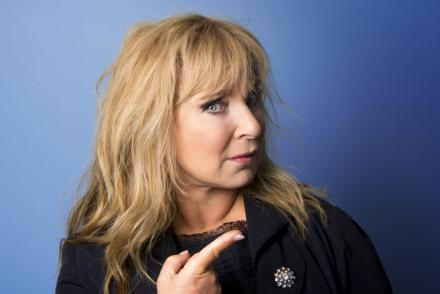 The Published Novel longlist for the Comedy Women in Print Prize (CWIP) is announced today (Wednesday 21st December), comprising a range of satire, sharp wit and dark humour from both established names and debut writers and showcases the evolution of original witty women's writing.
The Unpublished Novel longlist is also revealed, bringing twelve writers closer to a book deal. From silver dating, magic mushroom highs to the secret life of a librarian - this year's unpublished list also offers originality alongside the humour.
Meanwhile the published titles reveal a sparkling list of genres, from mid-life rom coms to queer fiction, YA to sci-fi, this year's published novel longlist tells us much about how we live now: witty fiction that tackles tough subjects: love, grief, sex, guilt, class, life after re-hab and race. The list encompasses intelligent comic literature by bold, authentic voices seeking to navigate current events.
From a small village in Ireland and the hair salons of Peckham to the scientific community of 1960s America, the longlisted books circle the globe and demonstrate the multitude of ways women can express wit and humour, even about the darkest, most urgent topics. At a time when female comedy writers such as Phoebe Waller- Bridge, Sharon Horgan, Michaela Coel and Daisy May Cooper are continuing to break new ground and produce outstanding scripts CWIP is proud to highlight sixteen similarly anarchic and daring writers.
Judge Michelle de Swarte says 'I feel absolutely honoured to be one of the first to read these exciting new stories...here's to a bright start to 2023'
Judge Susie Blake says, 'I am so excited by the current ebullience of witty women writers, and the time is so right to celebrate them!'
CWIP was established to celebrate women's wit and to enable writing careers where doors had been closed. The act of publishing an unknown writer, by a well-known publisher, plays a significant part in achieving this aim. This is the fourth year of the UK and Ireland's first and only prize to shine a light on witty novels by women - celebrating diverse female voices and kick-starting comedy writing careers. Harper Fiction will publish the winner of the Unpublished Novel category with a £5000 advance. The two unpublished runners-up receive MA places for creative writing. After four years of partnering with HarperCollins CWIP has seen that there is an exciting, albeit modest but mighty group of women writing witty fiction. Encouraging entry is an important way to celebrate new writers.
The CWIP Prize was launched by actor, author, and stand-up comedian HELEN LEDERER (pictured) in 2019 as a literary platform to increase exposure for diverse female witty voices in comedy fiction, and as a way of celebrating fresh and established talent. Helen comments: "I can't believe how CWIP has grown and evolved in four years! Apart from celebrating a wider reach of topics in witty fiction this year, we can also celebrate a growing list of new 'career writers' who may not have been published without this platform. Our USP has to be having a publisher, trusting enough to publish an unknown writer from the start. Not boasting but just saying..."
Since CWIP began in 2019, 48 top witty authors have been celebrated and 20 new writers' careers have been launched – the most recent success story being Rebecca Rogers with 'The Purgatory Poisoning' due for release on March 2, 2023 (Harper Collins).
The Comedy Women in Print Prize 2022 longlist for the Published Novel category is:
• Love Marriage by Monica Ali (Virago)
• The Startup Wife by Tahmima Anam (Canongate)
• Either/Or by Elif Batuman (Jonathan Cape)
• The Writing on the Wall by Jenny Éclair (Hachette Children's)
• Factory Girls by Michelle Gallen (John Murray)
• Lessons in Chemistry by Bonnie Garmus (Transworld)
• Again, Rachel by Marian Keyes (Michael Joseph)
• Impossible by Sarah Lotz (HarperCollins)
• The Lock In by Phoebe Luckhurst (Penguin)
• Are We Having Fun Yet? by Lucy Mangan (Souvenir Press)
• Sorrow and Bliss by Meg Mason (Weidenfeld and Nicolson)
• Wahala by Nikki May (Doubleday)
• The Exhibitionist by Charlotte Mendelson (Mantle)
• Did You Miss Me? by Sophia Money-Coutts (HQ)
• One Day I Shall Astonish the World by Nina Stibbe (Viking) • Sedating Elaine (Fleet) by Dawn Winter
The Comedy Women in Print Prize 2022 longlist for the Unpublished Novel category is:
• While He Looked at the Moon, Christina Carty • Of Goats and Ghosts, Fiona Cooper
• Death and Her Life, Veronika Dapunt
• From Me, To You, Alison Hitchcock
• The Second Adolescence, Miranda Horn
• Miss Merriman Regrets, Louise Jensen
• Swiping at 60, Niloufar Lamakan
• Pull Yourself Together, Rachel James!, Eleanor Massey • Happy Above Use, Silvia Saunders
• When Stars Align, Gemma Tizzard • Second Chance, Joanna Waldron • Godfellas, Nicola Whyte
Head Judge Jennifer Young says: 'It is extraordinary to see the impact of the unpublished prize on people's lives - obviously the winners, but we've seen people from the long and short list get agents and publishing deals. CWIP opens doors for such diverse voices'
Judge Llewella Gideon says: 'Unpublished prizes give the writers the confidence and recognition that they are on the right path. I love reading the entries. It's so exciting to read new female comedy voices'
This year's judges of CWIP's published category include comedy actor Susie Blake; comedian Arabella Weir, broadcaster, and head judge Angie Greaves as well as national treasure Anita Dobson, actor, and presenter Michelle de Swarte. Unpublished judges include Ab Fab comedy actor and writer Llewella Gideon, Journalist Liz Hoggard and last year's unpublished winner Rebecca Rogers. Short story judges include comedian Olga Koch, fiction author and 'i' columnist Chris Manby as well as publishing professionals from Farrago and HarperFiction.
More info and a full list of judges can be found at
Winner of a comedy novel published between 29th May 2021 and 14th October 2022 will receive a cash prize of £3000 from the ALCS. Runner up will receive £1000.
Unpublished Comedy Novel (completed work of at least 80,000 words) Entries are assessed anonymously.
The winner will receive a publishing contract and a £5000 advance from Harper Fiction. The unpublished runner-up receives a place on the University of Hertfordshire MA course in Creative Writing or Writing Mentorship. A second runner-up will receive a place on the online MA in Comedy Writing from Falmouth University – the first of its kind in the country.
Honorary Awards including 'Best Writer' and 'Game Changer' will also be announced at the awards event, in addition to a special CWIP Legacy Achievement Award paying homage to the late Sue Townsend. 'The Secret Diary of Adrian Mole Aged 13 & 3⁄4' has just been reissued with a new foreword by Caitlin Moran by Penguin Michael Joseph to mark the book's 40th anniversary.
KEY DATES:
Wednesday 22 February 2023: Short List Announced
Thursday16 March 2023 - a CWIP Literary Salon entitled 'Women's Wit Can Conquer the World' at The London Library with new president Helena Bonham Carter and comedian, writer, and actor Cariad Lloyd
Monday 17 April 2023: CWIP Winners Event at The Groucho Club with celebrities, industry influencers and authors