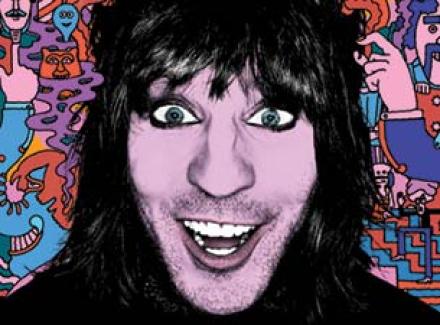 Will there ever be any more Mighty Boosh? The door still seems to be open but whether Julian Barratt and Noel Fielding will ever enter the crazy Boosh world again together remains to be seen. In the meantime though Fielding is on his current solo tour, which is getting rave reviews and has already extended its run. It's a combination of psychedelic sketches, nonsense characters, animations and more. Much it seems, like his recent Luxury Comedy series, which is no bad thing. It comes to the Hammersmith, sorry Eventim, Apollo on Tuesday.
It's a busy week at the Soho Theatre, with Shappi Khorsandi and Sam Simmons both starting runs there from Monday. Khorsandi always seems to have a new issue to talk about in her shows, whether its dodgy boyfriends, her Iranian family or parenthood. She is funny in a friendly, frank, chatty, sometimes apologetic, but always very enjoyable way. And she has been away for a while so she should certainly have plenty to talk about.
If Khorsandi's tales are firmly rooted in reality, Sam Simmons' riffs seem very much inspired by surreal fantasy. His latest show, Death of a Sails-Man, is, as the title suggests, about one man alone on the sea battling against the elements and losing any marbles he started out with. Imagine Robert Redford in All Is Lost on some strange hallucinogenic narcotics. It picked up a Foster's Award in the summer and if you like your comedy with a nutty flavour grab a ticket. 
Oh, and a couple more shows to look out for. Will Adamsdale, who won a Perrier Award seemingly yonks ago, is back with a new experimental show entitled Borders at The Invisible Dot from Monday. And if you want to see some comedy in a toilet the Water Aid It's No Joke Comedy Festival, featuring the likes of Bec Hill and others, is currently taking place in converted loos all over London.