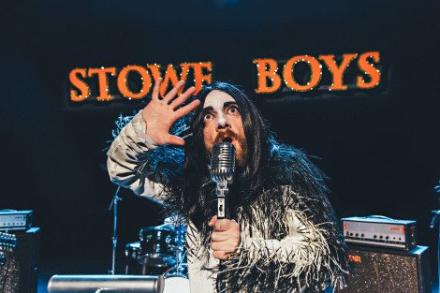 A transmission date has been confirmed for the second series of Brian Pern: A Life in Rock. The new series will start on BBC2 on December 9. 
This follows the succesful first series which went out on BBC4 and featured Pern, played by Simon Day, talking about his career in music, and in particular his time in progressive rock band Thotch. Many critics concluded that the series was a send-up of the work of Peter Gabriel. To everyone's surprise Gabriel had a cameo in the final episode.
In the first part of this new series Pern will be discussing the making of Thotch's first ever Jukebox Musical, 'Stowe Boys.' Returning for this series alongside Simon Day are Michael Kitchen, Paul Whitehouse, Nigel Havers and Lucy Montgomery. Special guest stars include Kathy Burke, Martin Freeman, Alexis Petridis, Jack Whitehall, Alan Yentob, Tony Way, Annie Nightingale, Phil Cornwell, Julia Deakin and Sir Tim Rice. These pictures show Freeman and Whitehall playing members of Thotch in Stowe Boys.