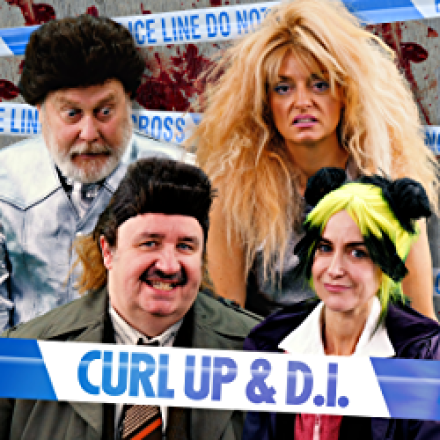 The new comedy crime podcast starring Jim Moir (Vic Reeves) and Morgana Robinson has now launched.
Curl Up And D.I. is written by Tony Pitts and is a comedy about two hapless cops, Gemma and Andy, played by Katherine Kelly and Mark Benton who are based in the North Yorkshire seaside town of Slatby. They are so useless that they seek help to crack cases from two crime fiction-obsessed hairdressers Yacky and Reuben, played by Jim Moir and Morgana Robinson. The salon soon becomes the base of operations rather than the police station.
Gemma likes disguises and constantly changes her hairstyle, in one picture going for a "Billy Eyelash" look according to the promotional shots. Though, of course, this is a podcast so you don't actually see Gemma.
Katherine Kelly has described the show as a bit like a "Jackson Pollock" painting with everything thrown at the wall during the seven episodes, but with a sensitive ending that tells us that flowers grow on the side of mountains and not on the top. 
The cast also includes Tony Pitts, Burn Gorman, Tomi May, Nancy Sorrell, Jennifer Saayeng, Bill Fellows, Adam Gillen, Charlote Lucas and Georgia Sansom.
Curl Up And D.I. is available at all usual podcast outlets.