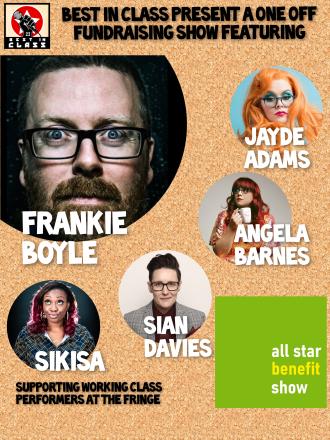 Best in Class have announced an All Star Benefit Show taking place at Edinburgh Fringe.
The show boasts a stellar line up of Frankie Boyle, Jayde Adams, Sikisa and Angela Barnes, with even more acts to be announced. Best in Class founder, Sian Davies will host the 90 minute extravaganza at Gilded Balloon Patter Hoose in the Big Yin on the 17th August.
Davies said "It's a dream line up to be hosting! Gilded Balloon wanted to support Best in Class so donated the space for us to hold a benefit show. At that point I had no idea what it would look like, but I knew I'd need a couple of decent names to sell a 250 seater room. I asked around, sent a few emails, slid into a few DM's and within a few days I had managed to put together a line up of comedy superstars."
All funds raised from the All Star Benefit Show will help Best in Class to support even more working class performers and secure the longevity of the organisation.
Best in Class is a crowdfunded profit sharing organisation that champions the rich talent of working class comedians. This year as well as the Best in Class showcase, a Fringe Recovery Grant allowed the organisation to set up a new accommodation bursary. Any working class acts who are doing a full run can apply for a House of Class accommodation bursary and if awarded will receive £500 to help with costs.
The bursary is already over subscribed, meaning fundraising will continue right up until the festival and be filtered out as it becomes available. The more money Best in Class can raise, the more artists they can support. The crowd funding campaign has already had some big industry donations from companies such as Hat Trick and Turtle Canyon, as well as support from other comics with Darren Harriott, Leo Reich and Ania Magliano all donating. However the waiting list for people eligible to receive the bursary is now beyond the initial Fringe Recovery grant and the additional money raised.
Anyone can contribute to the online fundraiser and even a small donation will help to support the work of Best in Class. https://www.gofundme.com/f/best-in-class-house-of-class
Tickets to the All Star Benefit Show (21:30 17th August Gilded Balloon Patter Hoose) https://tickets.gildedballoon.co.uk/event/14:4416/14:75591/
Tickets to Best in Class 2022 (20:45, daily 4th-28th August at The Counting House) https://tickets.edfringe.com/whats-on/best-in-class Or pay what you can on the door.
Tickets for Sian Davies, About Time (17:40, daily 3rd-28th August at Gilded Balloon Teviot) https://tickets.gildedballoon.co.uk/event/14:3831/