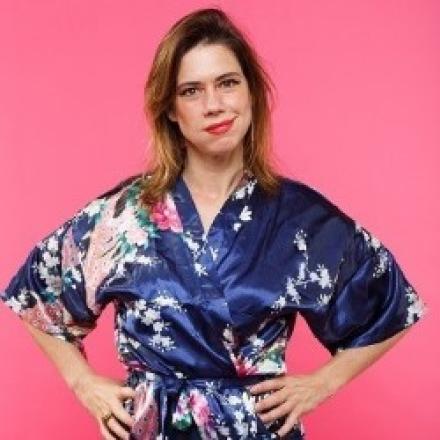 Taskmaster Champion of Champions will be broadcast on C4 on Thursday, June 23. It features previous winners Ed Gamble, Kerry Godliman, Richard Herring, Liza Tarbuck and Lou Sanders.
Read an interview with Lou Sanders below.
Why did you want to do Champion of Champions?
Oh, it was a no-brainer. It was just so nice to see everyone and I can't imagine anyone saying "no".
Was it a different experience doing Champion of Champions compared to the full series?
Yeah, the pressure's off. Everybody wants to win the series when they do it so they can come back for Champions, because it's the most fun show in the world.
Whereas Champions is so nice and relaxing because you just think, "Well, nobody's coming back, let's just have fun."
You did get quite argumentative with Greg though …
Yeah. It's funny isn't it? Me and Ed beforehand were saying, "I'm not even competitive, this doesn't matter", but then throughout the show we all got a bit competitive in different ways.
Where do you keep your Greg head?
On my sewing basket. Sorry, I'm just showing off that I've got a sewing basket. I don't sew.
What was the reaction from fans to your series?
People are really nice about it, they just love it. They can watch it with their kids and it has a really warm place in their heart. I don't want to be too cheesy, but it's so amazing to be part of.
I rollerskate and one guy at the skate park said "Oh, I loved your Taskmaster" and then I was really embarrassed because it's sort of embarrassing people knowing who you are when you feel a bit vulnerable at the skate park.
So I said, "Oh, thank you" and promptly fell over.
You wore your rollerskates on the show …
Yeah, I think it's nice to really go for it with your outfit, especially as it's a one-off.
But oh my God, Liza Tarbuck blew me away with her outfit. I don't want to give the game away but when you see what she does with her outfit: I just couldn't believe how good it was.
I loved Ed's outfit as well. He looked like such a beautiful wally.
Is it a different vibe, doing the show with four others who've all won the show before?
It's a lot more relaxed. I was quite nervous when I did mine three years ago because it was my first big TV series.
This time it was more relaxed because we've done it before, we know each other, and the pressure was off. It was just a lot of fun.
Me and Kerry have just done a camping show together, The Outsiders, so we knew each other well. I already knew Ed and Richard really well.
I'd never met Liza before but I felt an affinity with her which was inflamed on the show. I always loved her, even on the Big Breakfast before I went to school.
I remember at the time I just couldn't believe how funny she was and her tone and everything.
I was just like, wow, you just don't see such strong, funny women talking in their own voice and playing by their own rules the way she did. That was really unusual.
You had quite a heated argument with Kerry over points at one point …
I love Kerry, she's such a beautiful soul in this world. I couldn't believe my luck, everybody in that show is an absolute diamond.
There was no serious competition, we all really like and respect each other. I have glee in my heart when I think of any one of those guys.
Did you do anything differently this time around compared to your own series?
No, but I think I was more relaxed
I did change my mind three times about the prize task round. I thought we should put a lot of effort into it.
I think the rest of the tasks were quite light and fun but also quite romantic. I thought they were quite sweet tasks.
Did you enjoy using Alex as a prop?
He loves it. He loves being humiliated.
Didn't he look lovely in my task? I can't give too much away but I was doing that boy a favour and he should never forget it.
Was Greg on good form?
He was on great form. He's never looked better, for a start.
I think it's nice for Greg and Alex having us back because they know our vibes and that makes it easy for them. They don't need to help everyone feel relaxed because everybody is already.
Greg recently said he could never do a task, even for a charity sketch, because he'd be too good. Do you think that's true?
That's the kind of thing a child would say. "No, I'd be too good." Come on, Greg. The real reason he won't do it is because he doesn't want his authority to be stripped.
I think he'd be totally cack-handed which would be quite good to watch.
I think Alex would be brilliant, and Greg would be crap, which is why he'd never do it.
Interview supplied by C4